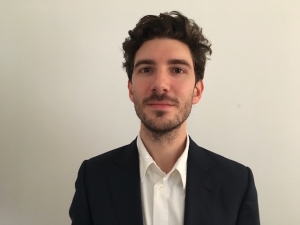 Charlie currently handles international sales on behalf of Altitude Film Sales to Eastern Europe, Turkey, Israel, South Africa, as well as specific territories in Europe and South East Asia.
Experienced in selling a wide variety of projects including KILL YOUR FRIENDS (starring Nicholas Hoult, James Corden, Craig Roberts), BIG GAME (starring Samuel L. Jackson) and the upcoming feature documentary MARADONA (by Oscar winning director Asif Kapadia).
Charlie's previous experience in the film industry includes working across the sales and distribution team at Focus Features and he originally started out as a campaign manager for a global advertising agency before moving in to his career in film.
1. How did you hear about the Inside Pictures programme? What's your impression so far?
I heard about the programme through word of mouth in the industry. A few people I work with had previously participated and told me how much they gained from it. I had high expectations coming into the programme and have been very impressed by the course so far. Meeting and listening to highly respected industry leaders, who are sharing their experiences, is a privileged situation to be in. The same goes for the other participants on the course, as it provides an environment where you can exchange experiences and ideas. I hope that this will continue after the course as well.
2. You currently work in International Sales at Altitude Film Entertainment. Can you tell us a little bit about your role there and what the company's priorities are for 2017?
The first part of my role is acquisition focused and involves reading and evaluating scripts. As part of this role, I also meet with emerging talent to source new projects that may otherwise slip under our radar. Something I very much enjoy doing. I feel lucky that Altitude Film operates across international sales, UK distribution and production so we can get involved in projects in different ways and for different reasons. The second side is more sales focused and involves preparation and attendance at film markets. There's many different sides to this role, involving pitching projects to international distributors, negotiating the terms of deals, feeding back on marketing materials and helping to co-ordinate international releases.
3. For anyone interested in working in film sales, can you tell us how you got started in the industry?
I started off as a producer's assistant on various feature films, knowing I wanted to work within film but not knowing what part of the industry to join. As there are so many different roles within film, assisting on various projects helped me see how the industry was structured. I came across International Sales and felt this might suit my personality well and also make good use of the skills I picked up in my previous career within advertising. I joined Focus Features International as a trainee for 9 months and from there I joined Altitude Film.
4. What are you working on at the moment?
We're in the process of taking delivery on several films, which involves a number of interesting elements such as creating international marketing materials, localisation and co-ordinating festival premieres. Aside from that, we already have our mind on the upcoming Autumn festivals and so we have been actively looking for projects that we could potentially launch there.