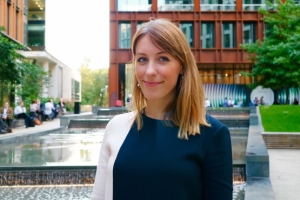 After completing a Masters in Film Business at Cass Business School in 2008, Faith started working in the film industry at independent UK distributor Soda Pictures (now Thunderbird Releasing), beginning as a publicist and later managing the publicity and marketing campaigns for all theatrical & home entertainment releases. During her five years at the company, she worked on over 100 films including American indies, British productions and foreign language films.
In 2013 she joined Entertainment One, delivering the marketing campaigns for theatrical releases including British breakout MR TURNER before being promoted to Senior Marketing Manager in 2015. In her current role, she leads a team of four to deliver theatrical marketing campaigns for approximately 15 films a year. eOne's recent slate includes Arrival, The BFG, The Girl on the Train, I Daniel Blake and Spotlight.  
1.How did you hear about the Inside Pictures programme? What's your impression so far?
I heard about Inside Pictures through colleagues and friends in the industry and have been impressed with the course: there's such breadth in the content covered and the quality of speakers is very high.
2. You are currently Senior Marketing Manager at Entertainment One. Can you tell us which campaign you are most proud of from your time at the company, and why?
Tough question… Mr Turner, Arrival and The Death of Stalin would all make the shortlist but the campaign I'm probably proudest of would be I, Daniel Blake. It had a lot of campaign elements that I enjoy, such as creative origination and strong media partnerships, but it also presented an opportunity to build a genuinely impactful grassroots campaign that contributed to creating a cultural moment which ultimately delivered a return at the box office. Activations like the pay-it-forward screening programmes, crowd-sourced social content and regional marketing officers were things we'd never done before and so it was satisfying to see them pay-off, especially for a film that raised such important issues.
3. For anyone interested in working in film marketing, can you tell us how you got started in the industry?
I'm slightly embarrassed to admit this but I actually decided I wanted to work in film marketing when I was 14, because I discovered that making posters and trailers was an actual job and that sounded like so much fun. So I had a very deliberate path: studying marketing at university and then doing a Masters in Film Business that was run by the Film Council, at Cass Business School. To get my first job in distribution I did a paid internship (funded by Film London) in PR, and took the first opportunity I could to move over to marketing. There are lots of good courses now to learn about distribution but most people get into the industry working their way up from an entry level internship at a distributor, though working at a creative or media agency can also provide a good segue.
4. What are you working on at the moment?
I've just wrapped on the theatrical campaign for The Death of Stalin which was a lot of fun, thanks entirely to the very talented team involved, and now I'm working on Molly's Game and Stan & Ollie, which I'm very excited about. The campaign has great potential with an iconic duo and their comedy heritage, plus a great team of British filmmakers to work with.