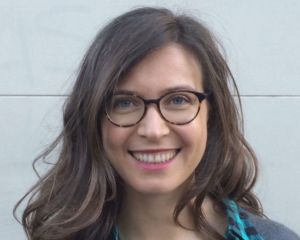 After graduating from Sciences-Po and from La Fémis film school, Frédérique Rouault cut her teeth in the film business at Paulo Branco's Alfama Films overseeing French distribution and international sales, before heading to TF1 Studio.
Moving back to independent auteur cinema with international appeal, she then joined Celluloid Dreams. As Head of Sales, she took care of 1st films (Xavier Legrand's Cesar-winning CUSTODY), established directors (Jacques Audiard, Takeshi Kitano) and English-speaking titles (LEAN ON PETE by Andrew Haigh).
Today, as Director of International Sales at Playtime, she spearheads the deployment of sales in major territories, at a time when the company is expanding the scope of its line-up to English-speaking titles and developing co-productions and TV series. Playtime's line-up includes a slate of renowned auteurs, selected at major festivals: BY THE GRACE OF GOD by François Ozon, SUNSET by Laszlo Nemes, NON-FICTION by Olivier Assayas or AN OFFICER AND A SPY by Roman Polanski.
What attracted you to Inside Pictures? What's your impression of the programme so far?
Having heard from several alumni how much Inside Pictures had been a total game-changer for them, I've wanted to join ever since. I've been truly amazed by the level of the speakers. Some of the sessions have been real "eye-openers" to me, especially in the finance and legal areas, being less familiar with the Anglo-Saxon approach in my daily work.
I'm now very impatient to start the second module in LA, as studios and US agencies still partly feel like a terra incognita to me – I'm curious to hear their point of view on this quickly evolving industry.
Interacting with fellow participants from all different horizons is definitely also one of the key assets of the program.
You've just come back from Toronto? How was TIFF for you? Who is buying who is not? Any surprises and interesting developments and trends emerging?
Despite a sluggish general atmosphere at the beginning of the market, Toronto has been quite busy for us, coming from Venice with the Silver Lion, Grand Jury Prize and the FIPRESCI award for AN OFFICER AND A SPY (J'accuse!) by Roman Polanski, starring Jean Dujardin, and with GUEST OF HONOUR by Atom Egoyan, which was in competition in Venice and in TIFF Special Presentation.
We had already pre-sold many territories on the Polanski, back in Cannes, based on the script and cast. So during Venice and TIFF we completed sales on several remaining territories.
The market has sadly become much slower for the rest of our slate. Most European buyers faced a very difficult summer, with a sharp Box-Office drop – for instance in Germany or Italy – so they came to TIFF with very cold feet, quite conservative in their estimates, not buying much and even more reluctant to pre-buy.
Another new trend that makes me think we will have to reinvent the way we approach markets and create desire around movies: more buyers tend to skip screenings, and ask for links, to focus on meetings and only attend "event" screenings like the Netflix movies. Which means they don't take the time to watch movies on the big screen in front of an audience.
Some of our very good art-house distributors were waiting during the whole market the outcome of their negotiations with Netflix (via FilmNation) to be in charge of the theatrical event releases of their titles. Most of them already took care of ROMA, Until they got the final answer from Netflix they held back their investments and were not buying anything else at the market.
It' hard to compete with our "traditional" slate, we will definitely have to reinvent the way we sell films in the coming years.
The sales sector has come under immense pressure in recent years, yet France sales and film sector seems to continue to go strong and has seen less fall-out than for example the UK. Why do you think that is?
The French international sales landscape is quite solid, and new companies keep emerging every year with various positioning – recently, Orange Studio, the international distribution arm of the phone and TV group or, at the other side of the spectrum, a niche boutique company, Totem, or a more hybrid outfit, Pulsar Content, launched by the financier company Logical Pictures.
French sales companies handle a whole variety of genres, from comedies to genre films or animation. France has a strong culture of producing and supporting not only French films, but also titles from all around the world. French companies are selling internationally nearly 90% of the world art-house cinema – most companies have international titles in their slates – films from Asia (Naomi Kawase, Jia Zhangke) to Eastern Europe (Corneliu Porumboiu, Laszlo Nemes) or Russia (Zviaguintsev),etc.
The French industry is also structured around a solid support from institutions such as the CNC which has a specific fund dedicated to sales agents, Unifrance which is supporting the promotion of French films abroad, the French association of sales agents, ADEF. It benefits also a lot from the European support from the European Film Promotion and MEDIA.
Most of the companies you have worked for are very director driven in their slate choices. What makes a good and sellable auteur?
A good and sellable auteur is like a distinctive brand by itself: it gathers a group of faithful distributors around each new film, curious to discover the new direction taken by the director even if you always recognise his very distinctive voice or style.
It feels like a family: most of them have known the director for years, have welcomed him or her in their territory for a release or during a local festival, and they are excited to pursue the work together. Accompanying an auteur is quite rewarding for a sales person: it's one of the very rare cases when you'll get first offers for the next "untitled" Ozon or Assayas movie, just based on a 2 lines synopsis and a cast.
Most of the time, films by renowned directors end up in competition in famous festivals, which is also more fun: you have more to do as a sales agent, coordinating the delegation, the press junket, eagerly waiting for the 1st reviews, and getting a large dose of adrenaline, playing with the buzz to try raising interest and momentum among buyers, or accelerating your sales when getting an award.
A good and sellable auteur like François Ozon is not only a very talented and prolific director, always reinventing himself and tackling a new genre with every new film, but he's also one of the most perfectionist professionals I've ever had the chance to work with. In every single circumstance, he does the job perfectly and even way beyond: I've never seen a director involved in any aspect related to the film's exploitation: approving each and every deal himself, as a coproducer, with a very impressive knowledge of each specific market, re-editing the film himself when some airlines request to "cut" or hide some scenes presenting nudity, committing to accompany the film abroad and answering phone interviews, even from the middle of the shooting of his next project, or sending a perfect video of support and protest not even 10 minutes after the Russian distributor of BY THE GRACE OF GOD had informed us that the movie was suspended on the date of the release for a matter of visa.
You also have films with good and sellable actors or actresses: for instance Juliette Binoche. Her films would sell and perform on the international scene no matter what. We took care of 3 films with her lately: LET THE SUNSHINE IN by Claire Denis, NON-FICTION by Olivier Assayas and WHO YOU THINK I AM by Safy Nebbou. And I rarely saw such a generous person during interviews or meetings with our distributors.
What is even more exciting is to discover a new talent with a unique vision and storytelling and help him or her travel on the international scene. Playtime handled SON OF SAUL by Laszlo Nemes from the very beginning all the way to the Oscars. And I had the chance to take care of CUSTODY by Xavier Legrand, back when I was at Celluloid Dreams. Having people literally running to your office in tears after discovering the movie at the premiere, unable to speak, but desperate to handle the film – especially after trying to raise awareness around the movie 6 months before and getting only cold reactions because of its touchy or taboo topic for most countries, the film dealing with domestic violence – is simply irreplaceable. After the film travelled to more than 50 countries, getting the French Cesar award more than one year later is one of the best professional adventures I've experienced so far.
Playtime has been expanding their English-language slate for a while. What is your USP in a crowded market dominated by US and UK companies? How would you describe the profile of your slate?
Playtime has regularly handled English-speaking titles over the past few years (KILLING GROUND, EYE ON JULIET), but has recently decided to make the jump to development and production – convinced that to compete with US or UK companies, we had to bring our own talents or IPs to the table. We're developing the US remake of GOODNIGHT MOMMY, an Austrian thriller by Veronika Franz and Severin Fiala we were representing internationally, together with Animal Kingdom (IT FOLLOWS, THE DEAD DON'T DIE). We're now looking for partners for the development and financing stage, and the response during TIFF has been very enthusiastic. By bringing European talents – directors, scriptwriters – or IPs, we intend to bring a unique proposition to the Anglo-Saxon scene and to become full-on partners with local players.
Tell us about your upcoming projects, what should we look out for?
We just announced the new movie by François Ozon, a coming-of-age story set up in Normandy during the summer of 1984.We are aiming for Cannes with the next film by Naomi Kawase, COMES MORNING, based on a Japanese best seller. During TIFF, we just announced 2 French comedies: MY DONKEY, MY LOVER AND I, with Laure Calamy (from the Netfix TV series CALL MY AGENT) and PLAYLIST by first-time director Nine Antico, with Sara Forestier and Laetitia Dosch. At AFM, we will have market screenings of our Australian action title, HIGH GROUND with Simon Baker. I also expect a lot from THE NOTEBOOKS by Lebanese directors and contemporary artists Joanna Hadjithomas and Khalil Joreige, a coproduction between France, Lebanon and Canada, now in post-production.