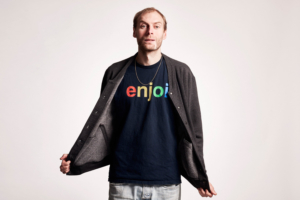 Gijs Kerbosch is the founder of international production company and photography agency HALAL. He set up the company in 2005 with the aim to bring visual storytelling to the next level by creating an artist-centric business taking a holistic approach to content creation. The award-winning company is run by four partners consisting of fiction, commercial, photography and documentary departments based in Amsterdam and Berlin. The work is consistently recognized for pushing the boundaries, visually breaking the rules, entertaining and offering a different perspective on culture.
As Head of Fiction, Gijs' productions have received praise globally from the likes of Sundance Film Festival, Berlinale, Tribeca Film Festival, San Sebastian Film Festival and BFI. One of his earliest successes is the infamous Dutch TV-series NEW KIDS, which was reworked into two major box-office hit feature films in the Netherlands and Germany. Other benchmark productions are the feature films NECKTIE YOUTH (2015), PRINCE (2015), and CARGO (2017).
How did you hear about the Inside Pictures programme? What's your impression so far?
I heard about the program for the first time from my good friend Jasper van Hecke who is a Inside Pictures alumni. He told me the program was really something for me, and I actually listened for once in my life. I really had the feeling at that point that I was ready to learn from others and to share my knowledge in return. The first module of Inside Pictures was really inspiring and very helpful so far. It gave me ideas about what I should focus on as a producer and where we should go as a company. After the first module I started talking with my partners about our strategy for the future. We are now working on how to achieve the goals that we have set for 2019-2021.
HALAL has grown quickly and created a lot of inspiring work across fiction, documentary, commercials and photography. How do the different areas of your business feed into each other?
Thank you. I am so happy to hear that you like what we do. We work with artists who can create in different creative fields at the same time. A director who is a photographer, a photographer who is also a director, a director who is also a painter and a writer, etc. A documentary or fiction director can also direct a commercial at our company and the other way around. We always try to look at the talent that someone has, without putting her/him in a box.
The whole production team is working very closely together and they are always learning from each other by asking questions and giving advise. The management team consists mainly of the people who run the docs, fiction, commercial and photography departments, so every creative element of the company is represented there as well.
You've recently opened an office in Berlin and you are thinking of having a presence in other countries in the near future as well. What's your thinking behind that, your motivation? 
In my opinion there is nothing more beautiful than work that can touch people emotionally all around the world. Work that is surprising and brings new insides. That's what we live for. There is so much beautiful work to be done, and we have the feeling that the people we work with deserve good representation and production resources in different markets so that we can share our talent with the rest of the world.
Also, Berlin is a great city to be. It has a great vibe and the quality of life is very high. Creatively and on a business level, it's a growing market where there is a place for Halal. That's why we started an office there.
Last but not least, it's a great learning curve to expand the company to other countries and it's a great business opportunity, as well. By doing business in several countries, we can create more time and recourses to develop the company, ourselves and therefore the content that we want to produce.
With your diverse business you have insights into many aspects of the media industry, and film & documentary is maybe at this point the least explored. What do you see looking at the film industry? Where do you see areas where the film industry could learn more from experiences of other media sectors?
All parts of the industry, film, television, documentary, advertisement, the gaming industry and VR can and will learn a lot from each other in terms of how to do business, how to run a company, how to develop stories and how to turn them into content that resonates. In that sense, I think film and documentary producers can learn a lot from the advertisement agencies and brands. From how an agency puts a new Adidas football shoe on the market around the time of the World Cup to a small local brand which builds a niche. I also think both sectors can learn a lot from each other about storytelling and what resonates with audiences.
What's next for the company? What projects are you most excited about?
Haha, where to start. We are working on several new feature films, docs and series at the moment. We will finish a series and a feature film this year and we are now financing two other feature films that are set for next year. LAST RIDE OF THE WOLVES is a hybrid fiction-doc about an artist who secretly films his criminal father and his accomplices, a gang known as the Wolves, during the preparations of what is to be their last and all-time biggest heist.
The other film set for 2019 year is PLANTASIA, the next film of writer/director Sam de Jong, who wrote and directed PRINCE, which opened the Berlinale and won a special mention. Sam just finished his second film GOLDIE, which was produced by Vice Films.
I am developing a very entertaining English language series and a feature film myself, which are set for 2020.
Next to that I am very excited about the Berlin office, the growth that we make with Halal in 2019-2020, and we are working on a couple of other partnerships that are in the making for 2019.
And although not a project, the one thing I am most excited about is becoming a father for the third time in December, haha.