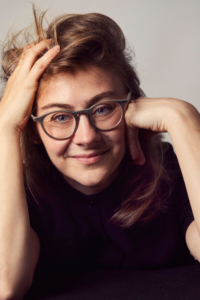 Janey van Ierland (Tilburg, The Netherlands, 1977) studied Film and Television Studies at the University of Amsterdam.
Before founding her company nummer19 management in 2008, Janey gained experience in various fields of the Dutch arts and entertainment industry. She worked in marketing, distribution, publishing and production.
In the past decade, nummer19 has established itself as a leading talent management company in The Netherlands with strong international relations. nummer19 guides the careers of an elite roster of actors and directors across all media platforms, including film, television, music and theatre, and excels at building long term relationships with their clients. Her select client list allows Janey to take a personal interest in every client's needs, providing professional guidance, support and promotion every step of the way.
What attracted you to the Inside Pictures programme? What's your impression of the programme so far? Does it deliver on your expectations?
Several producers had brought the programme to my attention, they really thought it was something for me. In recent years I've become increasingly involved in projects in ways that exceed my work as a talent manager, leaning more towards executive producing. Therefore I found myself increasingly in need of deepening my knowledge, especially in the field of film financing, sales and distribution. The first module of Inside Pictures is now completed, and it exceeded my expectations by far. The level of speakers is very high and varied. I have gained so much new knowledge. Knowledge that can be applied directly into practice. I feel extremely privileged being a part of this program.
How does your experience in sales and marketing feed into your work as a talent manager?
My background in marketing and sales came in handy when I started working as a talent manager. I knew how to 'market' an actor successfully, and realised the importance of long-term strategies for talents' careers. It has also proven to be very useful that I've worked on the production side. Talent agents can get blinded by their client's wants and needs, and push negotiations unrealistically far, which is often the cause of the sometimes quite arduous relationship between producers and agents. I'm not denying that I can be that kind of agent too, but having worked 'on the other side' helps me to negotiate in reasonable ways. I never lose sight of what is best for my clients, while keeping the producer's position in mind too, which largely determines how far I'm willing to push a negotiation.
I think it's fair to say that my prior working experience has been an important basis for my success as a talent manager. I can highly recommend anyone aspiring a career in talent management, to work in other fields of the business first.
You chose to call yourself a talent manager instead of an agent, what's the thinking behind that?
In a small country like The Netherlands, we don't distinguish between agents and managers, like in the US. We're agents, managers, publicists, lawyers, mental coaches, all in one. However, when I started to work internationally and learned about the difference between agents and managers, I quickly came to realise that my approach is managerial, and from then on I decided that talent manager is a better description for what I do.
Is there a difference in how European talent agencies operate compared to their US counterparts?
I believe that European and US managers operate in quite similar ways. However, there is a huge difference between European and US agents. US agents go to battle to get their client an audition, or land them a role, in a way that is beyond most European agents' comprehension. Giving up is just not in their vocabulary. Their fighting spirit and ambition has always been a huge inspiration for me, but fortunately the work ethics here in Europe are a lot better for my blood pressure!
How do you find working with US agencies especially when you represent the same client?
Nowadays I find it every enjoyable, but I'm not going to deny it has been frustrating at times too. It's all about finding the right people, agents and managers that truly understand the European taste, who get why these actors pursue a career internationally and what they are hoping to get out of it, and who respect your position as the home agent too. It takes a lot of time and effort to find these people, and to build a network of agent and managers that you trust and feel comfortable working with. You need to be a bit of a match maker too. It can't be underestimated how important it is to match your client with the right US agent or manager, in terms of personality. Today, I'm in a very fortunate position to be sharing clients with some of the most incredible reps in Hollywood.
What does 2018/2019 have in store for you?
I'm very excited about the new production banner of my clients Carice van Houten and Halina Reijn, who have teamed up to bring more female driven stories to Dutch screens. Their first outing, LOCUS OF CONTROL, will hit theatres in 2019 and their next project, an original TV series about human trafficking, will go into production next year. I've been highly involved in both projects from the earliest stages. Also, 2017 and 2018 so far have been very rewarding years in terms of landing beautiful international roles and projects for several of my actor and director clients. I'm so proud to see them make the leap to the global stage and I can't wait for these projects to become available for audiences worldwide.