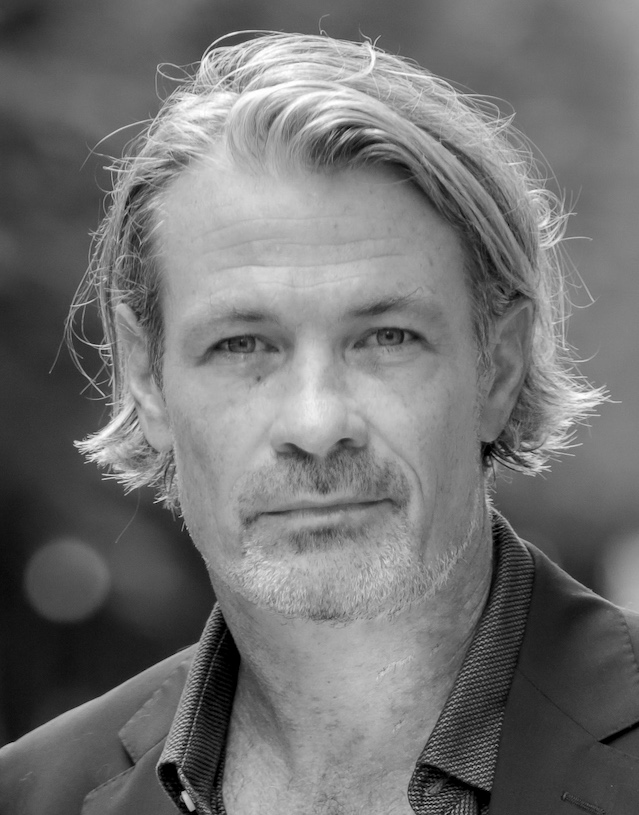 Matthew is an Australian born independent film producer who has been based in Paris for the past 20 years. He recently set up Wheelhouse Productions after occupying the position of Senior Vice President, International Production, at Studiocanal in Paris. Prior to that, Matthew was co-director of One World Films, where he produced GAINSBOURG (A HEROIC LIFE), THE WAR OF THE BUTTONS and  FAR FROM MEN, films nominated variously at the Venice Mostra, TiFF and Tribeca as well as winning French César awards.
Matthew started his film career in the director's department, working as a 1st A.D. alongside Olivier Assayas, Michel Hazanivicius and Bertand Bonnello. He initially came to Paris as a foreign correspondent. Matthew has degrees in philosophy from U.C. Berkeley and Sydney University.
What attracted you to Inside Pictures? 
Most of my films have been made in the context of the French cinema system. I've participated a lot in big English language shoots, but as a 1st Assistant Director (AD). So I know how to make films, but the financial packaging, the priorities, the marketplace of English language, or international market driven films, I don't know that much about. And Inside Pictures was the door in for me.
What aspect of Inside Pictures has had the greatest impact on you? 
Rather than just operating on film-by-film basis, I think Inside Pictures has opened me up to the idea of how to have a five-year strategy.
What lessons in filmmaking did you learn as a 1st AD that still hold true in work you're doing today as a producer?
I think I can speak the language of directors. I have an enormous respect for the work of directors, because I've watched them tear their hair out and make mistakes. I think I'm in a unique position as a producer to actually have an opinion on their directing ability – at least as it may correspond to my desire for the finished film, as a producer. It's given me faith in my own judgement and it's given me a capacity to trust a director once I've said I want to work with them.
As co-director of One World Films you produced GAINSBOURG (A HEROIC LIFE), THE WAR OF THE BUTTONS and FAR FROM MEN. What were some of the most challenging aspects and how did those experiences shape your vision for Wheelhouse Productions?
First example, if we talk about GAINSBOURG (A HEROIC LIFE). It was a creative and a financial challenge. We had €16 million ($20 million) to make a film with a director – comic book artist Joann Sfar – who had never even directed a short film. That's the sort of insanity that you can get involved in, in France.
For 16 years people had been trying to get the synchronisation rights for Gainsbourg's music from his family and been consistently refused. We convinced them with the idea of an artist making a film about an artist. That taught me that if you're smart, if you trust people where they can be trusted, and help them where they need help, you can come up with an amazing film. We wanted to believe and nobody crushed Joann Sfar and his artistic talent because it was just incredible. But we did push and pull him enough so that he listened to people who knew how to make films, and to understand that they were his allies.
On FAR FROM MEN I learned about distribution and marketing. It's a French/Arabic language film about the France/Algeria conflict in the 1950s starring Viggo Mortensen. It was an arthouse film, but we wanted it to be a breakout arthouse film. For the French poster we modelled it on a famous 19th century French painting – L'Angélus by Jean-François Millet. We were so pleased with ourselves because it had Viggo was on one knee with his head bowed as he held his gun and Reda Kateb, who plays the Algerian Arab lead is standing up beside him. We did 125,000 admissions in France, which is a little bit disappointing for us. It was picked up by distributor who was 16,000 kilometres away, in Australia, who didn't look at any of the contractual obligations of what he did or didn't have to do for the poster. He changed it so it was a big photo of Viggo – that you could recognise – and in huge bold type underneath him music by Nick Cave and Warren Ellis. They did 70,000 admissions in Australia. For a subtitled foreign language film. Wow, I thought, next time don't come up with your sophisticated poster that looks like a 19th century painting, go with the money.
How important do you feel a successful festival run is to indie production and an indie production's success from a producer's point of view? We can expand on the why.
Unfortunately it's got more important, because it's harder to exist out there. It's a way of underlining your film. It's the buzz you can create at the festival. Take Julia Ducournau's debut feature, RAW, that was in Cannes in 2016. There was a huge buzz amongst international sales people at this very challenging and controversial film.
Which of your projects are you most excited about right now?
Amongst the most exciting is a film called AN OCEAN APART. I think it says a lot about who I am as producer because it's both in English and French. It tells the – pretty much – untold story of the passionate and tragic love affair between French intellectual, and feminist, Simone de Beauvoir (she wrote THE SECOND SEX), and working class, hard drinking, American writer Nelson Algren (he wrote THE MAN WITH THE GOLDEN GUN). I've got Charlotte Gainsbourg playing de Beauvoir, which is very exciting. I hope to get AN OCEAN APART out in 2020.
I have an English language film called BLACKTOP that I'm presenting as part of Inside Pictures. It is a fantastic adrenaline driven film, by a French female director, set in the outback of Australia. BLACKTOP is about a deadly, illegal road racing done by people trying to escape the humdrum of everyday life in a near-future dystopia. There's something MAD MAX (1979) about it, because it's lo-fi – we're not going to be making THE FAST AND THE FURIOUS.
And what's a more medium term view for Wheelhouse's TV and Films slate?
I'd say probably two ambitions, and that's something I've brought away from Inside Pictures. I inevitably have to move into television in one way, shape or form. As an economic model, you know, companies that I really respect like Potboiler for example, Andrea Calderwood and Gail Egan's company. They're 50% in television now; and they say they'll be 75% TV in five years time. I think there is a creative space that is moving across to platforms and TV that I can't ignore if Wheelhouse is going to survive.
On the feature film front I do remain determined to make films others can't or maybe won't make. I think there will always be audiences out there who will realise that you've pushed a little bit further; that you've woken up screaming at three in the morning to do something that just wasn't obvious to everyone else.
Thinking about the last ten years as we approach 2020, what film from the last decade did you go and see and think, damn, I wish I produced that?
I really liked Tom McCarthy's SPOTLIGHT. It had brilliant acting, a very tight script, and was emotional without being overdone. Amazing.
One I cited earlier, just because I think it's very bold, as a female filmmaker, and for pushing film to the limits, is RAW by Julia Ducournau. I think as a producer, it's important to discover talent. I would have loved to have discovered Julia, but there will be others.
If you were in charge of France's national film policy, what would you advise the government to do to ensure more people across the globe saw French tv and movies…
I would be encouraging more cutting edge films, because I think France does have editorial possibilities that other market driven countries don't. We can still get money to put into daring or courageous films here thanks to the state recycling cinema earnings into development funds. I would be concentrating on that. I would not be trying to copy Hollywood. I would be making resolutely French films like Ladj Ly's LES MISERABLES. I'd also be looking towards contemporary cinema, and not period films dealing with well-known French people – good for the over 65 audience, but not good for the future of cinema.
France is never going to rival American cinema in terms of, financial muscle and efficiency. So it's kind of got to be cool.