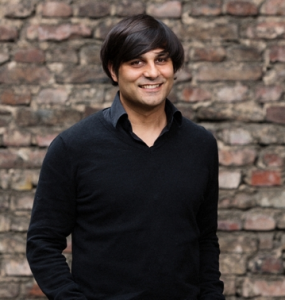 Maximilian Leo (b. 1979). From 2002 to 2004, he shot documentaries in different parts of the world, like Afghanistan or in Africa. In 2005, he began his studies at the Cologne Academy of Media Arts with a focus on feature film, graduating in 2009.
In 2008 he co-founded augenschein Filmproduktion with Jonas Katzenstein. Since then he has produced more than 20 international projects in various countries, such as France, Singapore, Thailand, Brazil, Uganda, Argentina and many more.
One of his latest productions is ANA, MON AMOUR by Calin Peter-Netzer, premiering in the Berlinale Competition 2017 and winning the Silver Bear for outstanding artistic contribution. MY HAPPY FAMILY by Nana & Simon had its world premiere at the Sundance Filmfestival 2017 and was screened at Berlinale as well then it got sold to Netflix. The next project is "7500" by Academy Award nominated director Patrick Vollrath, starring Paul Dano. The shooting of the English language production is starting in late summer 2017.
1. How did you hear about the Inside Pictures programme? What's your impression so far?
I have known about the Inside Pictures programme for a few years. A lot of our fellow European co-producers kept recommending it to me and told me that it really opens up a European producer's perspective. This is definitely the case. Also, the timing for our company couldn't be better, because we just wrapped shooting on "7500", our first English language production, by Academy Award nominated director Patrick Vollrath and starring Joseph Gordon-Levitt. So, the programme not only provided me with "inside" views into the English speaking producing world, it also enabled me to put a lot of this knowledge into practical use and I was able to profit directly from a number of great contacts!
2. You co-founded augenschein Filmproduktion in 2008. What project have you worked on as a company that has been most challenging? And which has been most rewarding?
That's a tough one. But I think it is, as always, the first and the last project… At the beginning, it was quite challenging to finance our movies and win over our partners. With no trade record to back us up, we had only our passion and enthusiasm to rely on. To date we have completed over 20 movies, most of which have been international co-productions, but with our most recent film "7500" we started working on a whole new scale. We partnered with Filmnation, and WME for the first time, and for the first time we shot with an A-level cast. Despite the challenges, this new experience has also been the most rewarding! It was a wonderful shoot, Joseph Gordon-Levitt delivered an outstanding and very passionate performance and our director Patrick is a amazing to work with.
3. As part of Inside Pictures, we match each of you with a mentor from our extensive alumni network. You've already had your first introduction to your mentor; what are you hoping to get out of the relationship?
My mentor is Jasper van Hecke and I am really interested in his advice and especially his perspective. As a Studio Executive working at his level, he can place each piece of the puzzle into a much wider frame and that is what I hope to profit from as we launch our next English-speaking movie projects. And who knows, maybe there are even projects where we could work together.
4. What did you find most valuable about Module 3 in London?
Module 3 was focused on the business side of the film industry and I really got a lot out of it. As producers, our expertise lies in creating, financing and selling the content, thus our focus lies less in scaling and selling businesses. So it really did widen my perspective and helped me see the bigger picture.
5. What does 2018 have in store for you?
2018 will be a big year for us with a number of milestones. With "7500" we might have our biggest US Release so far, we will have the augenschein Filmproduktion 10th anniversary in the summer, and on top of that we are preparing our next two English language movies: HOME, which will be Franka Potente's directional debut and also Patrick Vollrath's next feature. So, I guess it will be quite a busy year again…