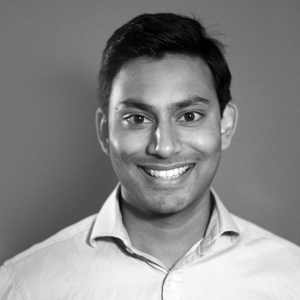 In 2007, shortly after completing a BA in English Literature and Film, Nish joined BBC Films where he worked as Development Assistant across a slate of award-winning feature films and BBC Four single dramas, including An Education, Brighton Rock and Toast. He moved to Curtis Brown Group in 2011 to work as an assistant to Joe Phillips and his list of directors and writers in theatre, film and television. During this time Nish also covered a unique list of contemporary novelists and estates including Samuel Beckett and Daphne du Maurier.
Nish was promoted in 2013 and joined forces with fellow agent Sam Greenwood to grow a list of writers and directors with a view to finding unique filmmakers and enable them to build careers in the film and TV industry in the UK and beyond. He prides himself on his hands-on support and promotion of clients and their work, as well as utilising the wide-ranging resources in-house at Curtis Brown including a wealth of literary material and casting and production expertise. He also works closely with book agents from Conville & Walsh and handles literary rights for a number of their contemporary, prize-winning authors and journalists. Notable clients include: Riz Ahmed, Carl Joos, Tinge Krishnan, Hans Herbots.
1. How did you hear about the Inside Pictures programme? What's your impression so far?
I first heard about the programme when I was an assistant. A colleague had been selected for the course and told me how intensive and gruelling it was. After some research I discovered the course was a highly prestigious programme designed to give professionals from all aspects of the film industry an education in all parts of our business. I've been impressed with the high level speakers on the course and the access we have into their business. Over the course of Week 1 was able to revaluate how I approach my own day-to-day and have come back to the office with a new focus and energy.
 2. As an agent, what do you look for most when producers approach your clients with a project? What makes you consider a project over others?
Story always comes first for me. If it's a script for a director, it doesn't matter who the writer is, if there is an original story with something to say about the world I'm going to be interested. I'm forever searching for material that puts the reader is a place we've not been before or offers a unique insight into a world we're not seen. It's the same for writers; it's always a great feeling to be able to offer a writing client an idea or a book in which they can sink their teeth into a really complex character or get consumed into a rich world. Obviously a strong producer and creative team is going to help sell the project, but that the heart of it, it's always the story.
3. Curtis Brown is one of the world's leading literary and talent agencies. How should a potential new client introduce themselves to you? What is the most usual way for you to discover the talent you represent?
Due to the volume of scripts flowing through the inbox, it's quite rare for me to pick out a cold query. A potential client needs to be able to stand out, whether that's through a recommendation via a producer or winning awards for their works – anything to say that they've been proactive in their own way to move their career forward. Oftentimes a client will think just having an agent will mean that the work comes pouring in, but the truth is at the beginning we have to collaborate as a team to build up heat. For the most part I'm watching short films, attending festivals and reading recommendations to find new clients.
 4. What are you working on at the moment?
I'm most excited about some of the writers I have working on original international TV series. The scale and ambition for international drama continues to grow and writers are able to explore bigger worlds and delve deeper into complex characters over many hours which has the potential to reach millions of viewers – its clearly very appealing. I love the variety of an agent's life, I'm currently helping a film-maker put together a passion project, I enjoy working alongside our acting department to help seek interesting projects that we can assemble in-house. I'm also working with a handful of authors for whom I've sold their films rights to their books and am excited to see how they turn out.