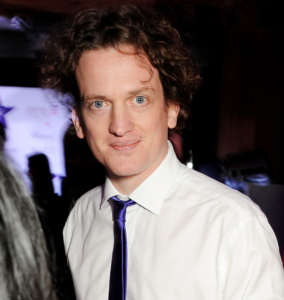 Oli has been at London-based international sales agent and UK theatrical distributor Dogwoof since 2006 and, as the company's first hire, was part of the original team who made the decision to specialise in documentaries the following year. Appointed a company director in 2011, he has worked alongside the CEO to help position the company as the leading UK distributor and sales agent for documentaries, establishing a strong brand presence in the marketplace and pioneering innovative distribution strategies.
As Head of Distribution and Acquisitions, he is responsible for acquisitions and overseeing all film releases, which have included 20 Oscar-nominated documentaries, with three wins and an additional two BAFTA winners. Successful release highlights include RESTREPO, THE ACT OF KILLING, BLACKFISH, THE LOOK OF SILENCE, CARTEL LAND, WEINER, LIFE, ANIMATED, DANCER, WHITNEY: CAN I BE ME, and MOUNTAIN. Oli is now also actively involved in the sourcing of projects for Dogwoof's new production fund, T-Dog Productions.
What attracted you to Inside Pictures? What's your impression of the programme after Module 1?
Inside Pictures has always been on my radar as the ultimate training programme in the film industry, and all the alumni I have spoken to (including Dogwoof's CEO Anna Godas, who was on the programme in 2015) have always told me what a fantastic opportunity it is to meet and hear from some of the leading figures in the industry, both here and in LA. Module 1 reinforced this as the line-up of speakers was terrific, and it was also great to meet all the other participants, who are all incredibly impressive in their own right.
Specialising in documentaries, you've released a long list of critically acclaimed films. Do you notice any shifts in the landscape or common themes emerging?
It was a very bold decision to specialise in documentaries back in 2007, but it has certainly paid off as the genre has been experiencing a real boom since then, which we've managed to be a significant part of. It has been interesting to see the real shift in how filmmakers approach the genre, moving away from traditional documentary methods and embracing far more artistic and creative techniques, some borrowed from narrative fiction but others which can only exist within the documentary space where there are no storytelling rules as such. There have been some truly groundbreaking documentaries which have achieved huge success as a result, ranging from the big blockbuster biopics such as SENNA and AMY through to films such as THE IMPOSTER and THE ACT OF KILLING. Saying that, the last few years in particular have seen an increasing number of biopics, largely of musical artists but also personalities from the worlds of sport and fashion. These are obviously able to tap into existing fan-bases and guarantee a degree of commercial success, and in the same way narrative fiction relies on cast appeal, this is emerging as documentary's equivalent reliance on 'names' pulling in audiences.
One of your specialities is campaign driven documentaries. How do you make an impact?
This is forever a hot topic in the documentary community, with a huge amount of the financial support available for documentaries coming from foundations and institutions who need there to be a social issue element to films they back, along with a strong emphasis on impact campaigns. This is obviously a fantastic ambition, as documentaries can undeniably affect positive changes in attitudes by virtue of only rarely existing purely as a form of entertainment. Yet too many filmmakers still fall into the trap of making films which preach to the converted, and I am a strong believer that real change and impact can only ever be achieved by making films accessible for mass audiences both in their appeal and their distribution. It has been a few years now, but BLACKFISH (a film which really put Dogwoof on the map) is still arguably the best example here. Whilst we worked with a huge number of partner organisations to help with the outreach campaign, we purposefully kept this 'behind the curtain' and made a concerted effort from the start to position the film as a must-see thriller for mainstream audiences, avoiding a heavy-handed animal rights approach in all aspects of the marketing. The film went on to be a huge success for us, but is also arguably the most effective documentary of recent years in terms of its impact when one looks at its effect on Seaworld's business and the general public's attitude towards the issue.
Please tell us more about Dogwoof's production fund, T-Dog Productions. What was your motivation to add production funding to your company remit in 2016? What kind of projects are you looking for?
Moving into production felt like a natural evolution for the company, in the same way that moving into international sales had back in 2011. The market is tough out there, and increasingly companies are having to adapt and diversify their core operations in order to be able to survive. We have seen two emerging trends in recent years which made the move a necessity, the first being the increasing dominance of the streaming platforms and their move into commissioning original content as opposed to acquiring titles, and the second being the talent agencies increasingly looking to represent titles and making it harder for traditional sales companies. By being involved in the actual creation of IP, we are able to maintain our relationships with the platforms as producers who they might commission, as well as safeguarding handling the rights for the films we invest in. We've invested in eight projects to-date, from early stages of development through to helping with gap finance, and the focus is very much on the more commercial end of the spectrum, with a requirement that films need to feel global and specifically US-facing.
What project are you working on currently that you're most excited about?
I'm really looking forward to our release of the M.I.A. documentary, MATANGI / MAYA / M.I.A., at the end of September. The film was a long time in production and I had been chasing it for several years, so it was most gratifying when the producers decided to go with us for both UK distribution and international sales, and even more so once the film was received so well at both Sundance and Berlin. As far as music documentaries go, it is a really individual portrait of a really individual artist, and unlike so many of the more conventional biopics out there. We have high hopes!