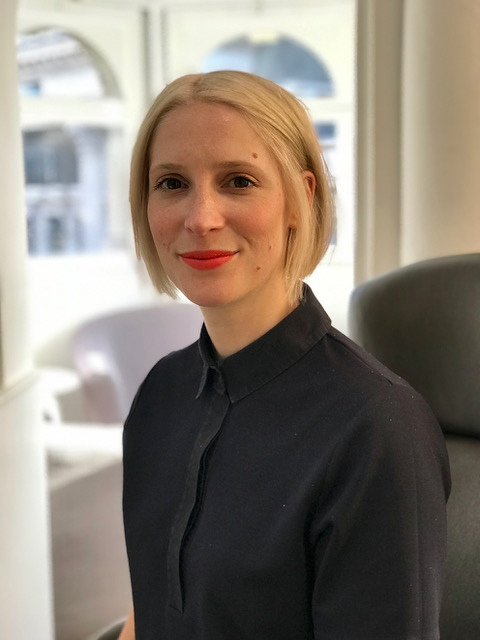 Sophie started her film career at Qwerty Films assisting producer Michael Kuhn, following a start in television with companies Tiger Aspect and Company Pictures. In 2009 she joined the Film/TV department of literary agency David Higham Associates to work alongside agent Nicky Lund. During this time, she earned a diploma in script development with the NFTS. Sophie then moved to Studiocanal UK joining the legal and business affairs team as an Executive. Here she was responsible for negotiating and contracting deals across all aspects of acquisition, development, production, finance and marketing.
In 2015 Sophie relocated to Australia to gain an insight into a foreign market. There she spent time working for funding agency ScreenWest before joining production company Ticket to Ride as Acquisitions and Business Development Manager responsible for acquiring a slate of low budget features projects and seeking out new talent and business opportunities.
On her return to London Sophie joined WestEnd Films as Head of Acquisitions and Development. In April 2018 Sophie joined Bankside Films as Head of Acquisitions and Development where she is responsible for evaluating, negotiating and contracting a diverse slate of independent, talent driven films for international sales as well as driving the company's in-house production and development slate.
What attracted you to Inside Pictures? 
Inside Pictures has such a strong reputation. I know so many people in the industry that have done it, and benefited from it.  It's always been something I've aspired to be part of myself.
What aspect of the Inside Pictures has had the greatest impact on you so far?
The relationships you form with your fellow participants are really strong and binding. It's like establishing a new core of peers you can trust. I've got this immediate group of people that I can fire a question to, and not feel silly, or stupid. You know you're going to get honest responses. That has been really fantastic.
Module three was also a real standout part of Inside Pictures because it provided me with the chance to be self-reflective. Within our industry you get caught in a bubble of what it is that you're doing every day and can lose sight of what you're trying to build, or where you're trying to get – career wise. Taking time to consider my own personal, professional development has been really great for me.
Bankside's website says you "seek to finance and distribute distinctive films of quality for theatrical release internationally" How do you meet those strategic aims in terms of Acquisition and Development of new film talent?
The slate is in two distinct halves. One half is focussed solely on supporting early career filmmakers; to discover new voices; and find those bold and distinctive pieces. These are new relationships we are seeking out and trying to build. However, we don't take unsolicited material. We rely on the nod from our peers in the industry. So, filmmakers with short films that have travelled, or those on the radar of organisations like the BFI and Film4. Although there's room for discovery, we are looking for the filmmaker to have had some approval from people/organisations we trust.
What are your key evaluation measures when choosing which projects to work on?
Essentially, all projects come through the acquisitions department, and we take a view on: what gets read by the wider team, immediately, or what needs to be considered further.
Every week there's an acquisitions meeting with: myself, Stephen Kelliher, Director of Bankside; and the wider acquisitions and sales team. I present all the new projects that have come in for that week, that I think are ready to discuss with the sales team.
The way I differentiate between what gets everyone's immediate attention versus greater consideration by acquisitions, is the strength of the package. Who's the director/writer? Who's attached? Who's the producer?
Something that arrives with a strong, more fully formed, package, always deserves the attention of the wider team without further delay.
Whereas projects by an earlier career filmmaker, with an emerging producer that's maybe made one film, or we've met them through iFeatures or Creative Scotland's talent network, or whatever it is. The acquisitions team will need to review those first. If we identify something we judge to be really sound, then we'll bring it up to the wider team.
When you're viewing so many projects at script stage, how do you and your colleagues remain excited by film and make commercially viable choices?
It is hard because we are a passion driven company and we want to make films that we absolutely love. So, sometimes it can be challenging within the company, trying to keep a more critical, objective view on films versus we like it, or we don't like it. It's my job to really shepherd the conversation towards the more commercial and business aspects, making sure that the wider team are staying objective and thinking about the business opportunity the project represents. We need projects that are going to go into production, but we also need projects that are going to be competitively viable.
That being said, we've got maybe eight, nine debuts on the current slate. Which shows we are quite willing to take the risks, but at the same time we've also acquired a number of horrors, that are much more commercially facing. It's about striking the right balance.
We need to be truly passionate about the project and the filmmaker, believing in a projects creative vision but also in its commercial opportunity. We are never going to do a movie for the sake of doing a movie.
How important do you feel a successful festival run is?
Festivals are really important. Particularly with the early career filmmaker projects that aren't talent driven and/or are more concept driven – a successful festival run is hugely important for distribution potential, garnering reviews and creating a buzz you hope to carry through to the release.
Which of your projects are you most excited about right now?
We're very excited by all the projects on our current slate, but one project, that is particularly exciting, is called YOU WON'T BE ALONE. It's a genre piece by first time filmmaker – Goran Stolevski. It was one of the most standout scripts we've read, of late; and combined with the quality of his shorts and the producers at the helm – Kristina Ceyton (THE BABADOOK) and Samantha Jennings (CARGO) – it made us get on board.
We soft launched YOU WON'T BE ALONE at the American Film Market, with a really exciting cast attached. We felt by the nature of it, it would be something that would probably sell from a promo, ahead of a very strong festival opening. However, because it is one of those really distinctive pieces, that don't come along too often, buyers have absolutely jumped on it. It seems that YOU WON'T BE ALONE is what everybody was looking for – something that's unique and has a real voice – particularly in the genre space.
What film(s) from the last decade did you go and see and think, damn, I wish I acquired that?
THREE BILLBOARDS OUTSIDE EBBING, MISSOURI is one. It's not without its flaws in terms of female representation, but at the same time, I think it was really sophisticated in how it looked at grief and justice. I thought it was beautiful – and yes that's definitely something I wished had come across my desk.
THE FAVOURITE is another stand out film from recent years I wish I had acquired.
More recently, I saw QUEEN & SLIM. It really blew me away. I know there's been some backlash, and it seems to be a bit divisive, but for me, from the sound design to the costumes to the central performances, I just loved it. And in terms of diversity, it features two black leads – Jodie Turner-Smith and Daniel Keluuya. It's written by a woman – Lena Walthe; and it's directed by a woman – Melina Matsoukas. It's a film that's trying to do something important, and I think it is a story everybody should see.
If you were in charge of Britain's national film policy, what would you advise the government to do to ensure more people got to see British productions…
Perhaps if there was additional P&A support to help British distributors push and champion British filmmaking talent. That's something that would help.
At present, distributors are naturally reluctant to buy most independent British projects for cinema release, because they're up against big studio movies. That's then become a vicious circle where, Britain's got nothing to compete with studio content, but then we're not buying anything British to compete with that content. Unless it's a particularly arthouse or specialised film, everything else tends to drop by the wayside.
Perhaps that's something to focus on – giving distributors some additional P&A support to get British films seen by more British audiences.