In 2014 Joris founded production company Le Boxeur Films. On the slate are a.o. THE PARTS YOU LOSE, starring Aaron Paul (Breaking Bad), in co-production with Mark Johnson (Narnia, Rain Man, Breaking Bad) and COUNTRY OF ORIGIN in co-production with Steve Jamison of Archer's Mark, with Tom Harper (War & Peace, Peaky Blinders) attached to direct. Playwright Maria Goos (a.o. Cloaca, produced at the Old Vic by Kevin Spacey) is penning a screenplay based on her own play The Help for Le Boxeur Films.
1. You've got a film premiering at this year's TIFF: TULIPANI, LOVE, HONOUR AND A BICYCLE. Can you tell us a little bit about the film?
It's the story of Anna, a Canadian woman who sets out to fulfill her mother's dying wish: to  scatter her mother's ashes in the south Italian village she grew up in. Arriving, Anna discovers her family history is quite different than she thought and that she is the daughter of a legendary man who battled the local mafia but paid the ultimate price. Settling an old score Anna heals the village, and in the process, herself.
2. You came on to the film late after the director sadly fell ill and production had collapsed, and helped support it to completion. What was the biggest challenge you faced on the project and how did you overcome it?
When I came on, mere months before the last chance to resume production, there was a complete lack of faith and confidence in the film all around. The director sadly couldn't return and had to be replaced, as did the lead actress; the insurance and bond provided no cover; the film was EUR 1 Million over budget; and all financiers – understandably – hung on to their money. Piece by piece we regained the bond's confidence and that of the financiers. Only at the last possible moment did we find a party to cash flow the remainder of principal photography. Once the film was in the can, the other financiers followed suit. It ended up as a 16-financier Canadian – Dutch – Italian – Lithuanian co-production which just shows how important collaboration can be to get a project over the line.
3. Challenging productions offer a great opportunity for learning and honing your craft. What did you take away from the experience?
Passion is essential to get a project off the ground, professional distance helps you drive it to the finish line – a particular challenge for me on this one as my uncle wrote the screenplay. Second, it is key to understand the interests of your financial partners and the risks they want to mitigate – and make sure that they're aware you understand. Finally, I was reminded that a complicated problem rarely has a clean and perfect solution.
4. What do you feel is the most important attribute to be a successful producer?
The ability to inspire faith and confidence from your creative and business partners.
5. You were a participant on Inside Pictures in 2015 and have supported it since as a speaker and a mentor. Why do you think it's important to have programmes like Inside Pictures?
There are so many parties from around the world involved in our business and to learn to understand their angle and their interests in an honest and open setting was fantastic. That knowledge came in very handy on TULIPANI. Also, being able to pick up the phone and ask your fellow participants and others in the Inside Pictures network for their advice is simply invaluable.
6. What are you working on at the moment?
Over the past year, I've expanded my business affairs practice from the continent to the UK. Through that practice and as an executive producer, I'm helping to finance projects and avoid the trouble TULIPANI got in to. I've got two films in post and I'm developing a number of projects, including a series on nuclear espionage by rogue nations in the 1970s and, with my Inside Pictures partner our graduation project – an action thriller set against the migration crisis.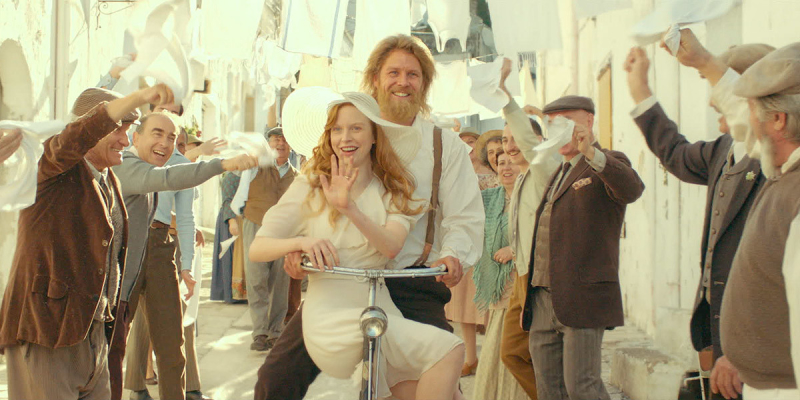 TULIPANI, LOVE, HONOUR AND A BICYCLE screens at TIFF on Tuesday 12th and Wednesday 13th September. Book Tickets.