Inside Pictures 2018 – Apply Now!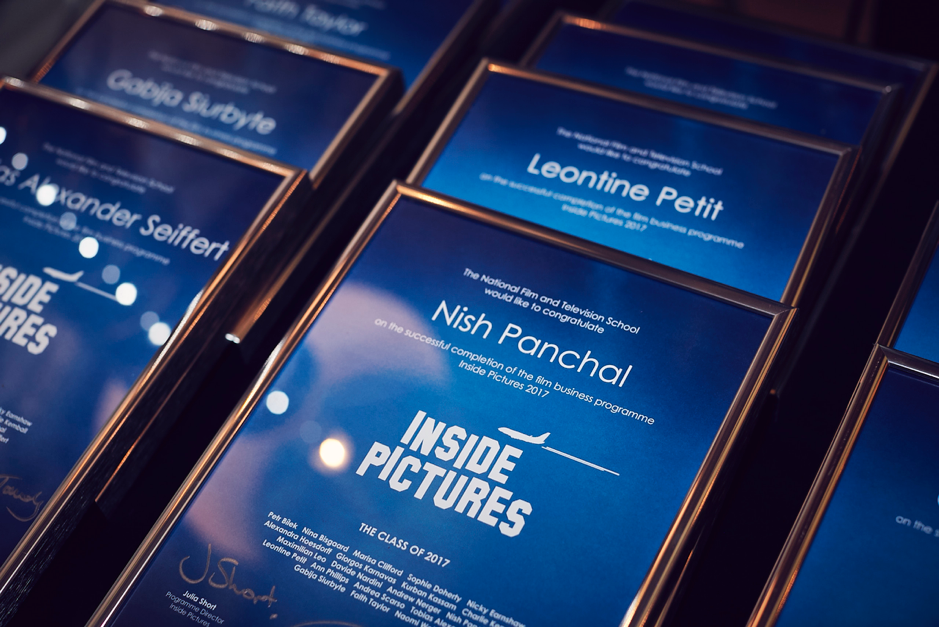 We are now accepting applications from applicants working across the European and global film industry. A range of high-level industry professionals in America and Europe have already been confirmed as speakers. An up-to-date list can be seen here.
Inside Pictures develops the cutting-edge industry business knowledge, management skills, profile and cross-industry contact network needed for leaders from across the industry to thrive in the global business of film.
Seminars, workshops, studio visits and networking events in London and Los Angeles cover all aspects of the international film business – from development through production, financing, worldwide distribution, marketing and exhibition and the latest digital developments. The third course module is dedicated to business, career and personal development featuring business case studies from a variety of companies.
The successful applicants will be executives from across the value chain, who display determination to succeed. They will have at least five years' experience in film or an associated creative industry, such as television. Applications can be made via the online application form here.
Alumni News
Inside Pictures is not only renowned throughout the industry for the high level of professionals who speak on the programme and who support it, but also for the alumni of the programme itself. Through its 15 years in operation, Inside Pictures has grown to a network of over 200 previous participants, working across almost every discipline within the film business. See below for some recent news from our Alumni, which offers an insight into the high calibre of the professionals who take part in the course.
FILM RELEASES & ANNOUNCEMENTS
DON'T KNOCK TWICE, John Giwa-Amu's (Class of 2016, UK) has grossed $3.5M internationally. He also executive produced THE PARTY which, as mentioned below, was nominated for three Evening Standard Awards.
Giorgos Karnavas (Class of 2017, Greece) and his Athens-based sales company Heretic Outreach have snapped up Sundance and Rotterdam titles to broaden its area of operations. Read more.
Leontine Petit's production company Lemming Films is about to embark on the first Chinese-Dutch co-production on location in Shanghai.
FESTIVALS AND AWARDS
Kurban Kassam's (Class of 2017, UK) feature THE PARTY was nominated for three Evening Standard Awards; Best Actress for Kristen Scott Thomas, Best Screenplay for Sally Potter and for the Peter Sellers Awards for Comedy. Read more.
Hugo Heppell (Class of 2005/6, UK) and Joe Oppenheimer (Class of 2003, UK) will be premiering their feature film YARDIE at Sundance 2018 on which they both executive produced. Read more.
Ana Godas' (Class of 2015, Spain) film WESTWOOD: PUNK, ICON, ACTIVIST is in the World Cinema Documentary Competition at Sundance 2018. Read more.
Producer Sean Wheelan's (Class of 2013, Sweden) film LEMONADE will premiere at Berlinale Panorama. Read more.
Diarmid Scrimshaw (Class of 2012, UK) continues to receive praise for GOD'S OWN COUNTRY. Diarmid, with production company Inflammable Films, served as producer. GOD'S OWN COUNTRY is nominated at the 2018 BAFTA Awards for Outstanding British Film, and lead actor Josh O'Connor is nominated as EE Rising Star. The ceremony takes place in London on February 18th.
Leontine Petit's (Class of 2017, Netherlands) feature MY GIRAFFE can be seen in the Generation competition of the 68th Berlin International Film Festival. MY GIRAFFE is directed by Barbara Bredero and written by Mirijam Oomkes and Laura Weeda. It is produced by Lemming Films, Leontine's production company.
Lemming Films' latest TV series FENIX premiered at the International Film Festival Rotterdam last week. The series is the biggest Dutch / German / Norwegian series for Tweens ever made.
CAREER MOVES AND OTHER ANNOUNCEMENTS
Uzma Hasan (Class of 2010) will join Oscar-winning director Tom Hooper as she joins the Channel 4 board. Uzma is a producer and co-founder of Little House Productions, which focuses on "bringing subversive stories to global audiences". Uzma also sits on selection committees for the British Independent Film Awards, Film London and consults for the International Film Festival Rotterdam. Read more.
Aranka Matits (Class of 2013), while continuing acquisitions with Featurette has also branched out into teaching. This includes, among others, EAVE Puentes: Two workshops bringing together producers from Latin America and Europe to work together with leading experts, potential financiers distributors and sales agents from both continents and New Horizons Studio+: a workshop for young directors and producers from (mainly Eastern) Europe to learn about the mechanisms of the industry with an emphasis on production promotion and distribution.
Please contact us with any questions about the 2018 Inside Pictures programme, or if you have a potential participant you'd like to recommend, we'd love to hear from you.
Bea Neumann / bea@inside-pictures.com
Claire Stratton / claire@inside-pictures.com
Steffi Röders / steffi@inside-pictures.com