INSIDE PICTURES CELEBRATES 20 YEARS AND ANNOUNCES PARTICIPANTS FOR 2023 WITH CORNERSTONE FILMS ALISON THOMPSON APPOINTED NEW INDUSTRY AMBASSADOR
"Developing the Next Generation of Leaders in the Global Film and Television Industry"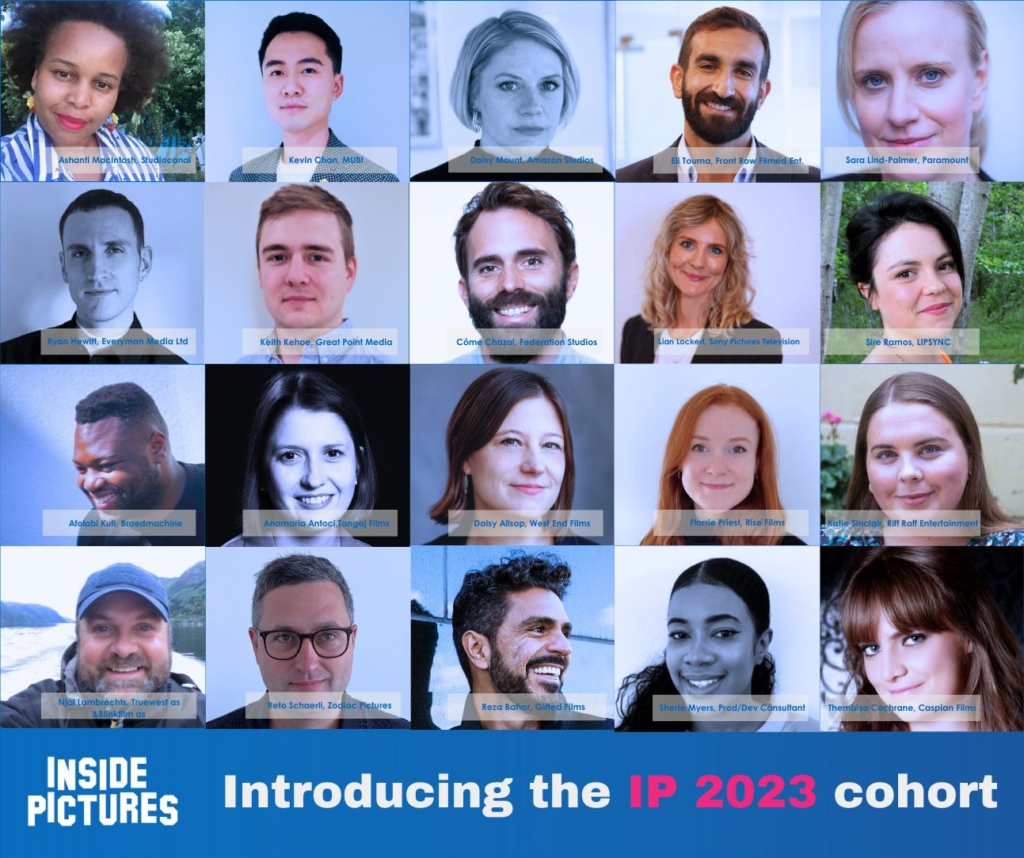 London, 10 May 2023: The National Film and Television School (NFTS) today announces the participants selected for Inside Pictures 2023, its prestigious business training and leadership skills development programme. Additionally, Inside Pictures is thrilled to announce it has appointed Alison Thompson of Cornerstone Films (Good Luck To You, Leo Grande, Four Letters of Love) to act as this year's Industry Ambassador, representing the programme to the wider international industry and sharing her expertise and insight during key milestones.
Inside Pictures celebrates its 20th year in 2023, marking 12 years of the programme being delivered by the NFTS, one of the world's leading film, television and games Schools. Once again, the programme is supported by the BFI, awarding funds from the National Lottery.
Inside Pictures will continue to cater to both the film and television sectors, taking participants to the heart of the industry. The selected executives will be given the tools needed to navigate the many challenges and opportunities ahead within the international film and television businesses.
The successful producers and executives taking part this year were selected from numerous high-calibre applications across the film and television sectors including; Acquisitions, Development, Production, Sales, Distribution, Finance, Marketing, Publicity, Exhibition, Legal and Business Affairs, Post Production and Commissioning. This year's cohort is comprised of 20 participants, representing eight global territories.
Introducing Inside Pictures 2023 Participants:
Afolabi Kuti | Producer / Exec Producer | Broedmachine
Anamaria Antoci | Producer & Managing Partner | Tangaj Production
Ashanti McIntosh | VP Acquisitions | STUDIOCANAL UK
Côme Chazal | Group Deputy Chief Legal Officer, International Legal and Business Affairs | Federation Studios
Daisy Allsop | Head of Acquisitions & Development | West End Films
Daisy Mount | Scripted Executive | Amazon Studios
Eli Touma | Acquisitions & Distribution Director | Front Row Filmed Entertainment
Florrie Priest | Development Producer | Rise Films
Katie Sinclair | Head of Development | Riff Raff Entertainment
Keith Kehoe | Director, Investments | Great Point Media
Kevin Chan | Global Co-Head of Acquisitions | MUBI
Lian Lockert | SVP Business Affairs, UK and EMEA | Sony Pictures Television International Productions
Njål Lambrechts | Owner/Producer | Truewest as & Blinkfilm as
Reto Schaerli | Producer | Zodiac Pictures
Reza Bahar | Owner / Producer | Gifted Films & Gifted Films West
Ryan Hewitt | Marketing Director | Everyman Media Ltd
Sara Lind-Palmer | Executive Director | Paramount Global
Sherie Myers | Producer & Development Consultant
Sire Ramos | Head of Development | LIPSYNC
Thembisa Cochrane | Producer | Caspian Films
The Inside Pictures programme is comprised of three intensive one-week modules in addition to a tailored project beginning in June 2023 through to January 2024. The programme will be delivered in person both in London and LA.
Inside Pictures will give participants the 360-degree understanding of the global business of film and television that it has become synonymous with, at a time when networks and strategy are of more value than ever. Participants will benefit from the support of their cohort, and input from top-level industry leaders from both sectors about how to grow and lead businesses in film and television.
Inside Pictures is delighted to appoint Alison Thompson as the programme's incoming 2023 Industry Ambassador.
Alison is co-founder of UK and LA based international production, sales and finance outfit, Cornerstone Films. The company focuses on feature films of enduring quality and distinctive story-telling. During her career, she has worked with many of the world's leading filmmakers on films that have garnered commercial and critical success. Alison started her career at Channel 4, following which she joined The Sales Company where, during the 1990's, she rose through the ranks to become Chief Executive. In 2000, she joined Pathe International followed by an eight-year tenure at the helm of Focus Features International, before setting up Cornerstone in 2015.
Alison Thompson, Inside Pictures Industry Ambassador 2023 commented: "I've enormously enjoyed tutoring at Inside Pictures on many occasions and it's a great privilege to be invited to be Industry Ambassador of this 20th anniversary programme. More than ever before, it is vital that we equip our future leaders with the necessary skills to pioneer and champion innovative creative ideas and business models in a fast-evolving landscape. Inside Pictures provides that rare opportunity and I'm very much looking forward to joining the new cohort of 2023 on their journey over the coming months."
Jon Wardle, NFTS Director added: "We're thrilled to announce the participants for this year's Inside Pictures programme, as well as the appointment of Alison Thompson as 2023 Industry Ambassador. Over the past 20 years, Inside Pictures has provided invaluable business training and leadership development for talented individuals in the film and television industries. With the support of the BFI, we're excited to continue this tradition and equip this year's cohort with the skills and knowledge they need to succeed on a global scale."
Clare Crean, Inside Pictures Programme Director of Content commented: "It's a great privilege to welcome this year's participants to the programme and Alison Thompson as our esteemed Ambassador. Today, more than ever, international networks are essential to a thriving industry. Thanks to the BFI's ongoing support, Inside Pictures can continue its work to develop executive and producing talent, equipping them with the 360-degree understanding of the industry that will allow them to grow and thrive on the international stage."
Agnieszka Moody, Head of International and Industry Policy at the BFI said: "Another exciting cohort of entrepreneurial UK producers and executives who benefit from this excellent professional development programme. They will also gain exposure to valuable and dynamic international peer contacts giving them the opportunity to grow and expand their global networks."
Inside Pictures receives widespread industry support and participation from many of the highest-level industry professionals in America and Europe. See inside-pictures.com for a list of previous speakers who have generously lent their support to the programme.
NOTES TO EDITORS:
Contact for further information:
About the National Film and Television School (NFTS)
The National Film and Television School (NFTS) is a renowned educational institution specialising in film, television and games. Leading the way in creative education for over 50 years and with locations across the UK in Scotland, Wales and Leeds, the NFTS has established itself as one of the most prestigious film schools in the world. Offering an inclusive and diverse learning environment, the School attracts students from all over the globe. It consistently ranks among The Hollywood Reporter's top international film schools and has been recognised for its excellence in teaching and innovation. The NFTS develops some of Britain and the world's top creative talent, with graduates going on to win numerous awards, including 14 Oscars and 162 BAFTAs. As a registered charity (313429) the School provides a level playing field for all students, regardless of their background, gender or ethnicity. For more information see nfts.co.uk
About the BFI
We are a cultural charity, a National Lottery distributor, and the UK's lead organisation for film and the moving image.
Our mission is:
To support creativity and actively seek out the next generation of UK storytellers
To grow and care for the BFI National Archive, the world's largest film and television archive
To offer the widest range of UK and international moving image culture through our programmes and festivals – delivered online and in venue
To use our knowledge to educate and deepen public appreciation and understanding
To work with Government and industry to ensure the continued growth of the UK's screen industries
Founded in 1933, the BFI is a registered charity governed by Royal Charter.
The BFI Board of Governors is chaired by Tim Richards.