Module 3 of this year's edition of Inside Pictures kicked off yesterday.  It was hosted once again on Zoom with our cohort dialling in from 13 different territories around the globe.  This module focusses on personal development and leadership skills, providing bespoke business development to our 20 participants.  Sessions will range in subject from (role playing) negotiation skills to the importance of loving your business plan!
This module also features a key note address from our ambassador, Rose Garnett of BBC Film.  Since joining in 2017, Rose has commissioned and Executive Produced a wide range of titles including, Joanna Hogg's THE SOUVENIR, which won the International Grand Jury Prize at Sundance, Rupert Goold's JUDY, which saw Renée Zellweger win a BAFTA, Golden Globe and Oscar for her portrayal of Judy Garland and Eliza Hittman's Berlinale Silver Bear winning NEVER RARELY SOMETIMES ALWAYS. 
Garnett previously worked as head of creative at Film4, where she developed and executive produced an array of successful UK films, including Yorgos Lanthimos's THE FAVOURITE, Martin McDonagh's THREE BILLBOARDS OUTSIDE EBBING MISSOURI and Andrea Arnold's AMERICAN HONEY.  The session will be moderated by Wendy Mitchell and will afford a rare and intimate audience with Garnett, and an invaluable opportunity to discuss how our industry might evolve in this 'new normal'.
Wendy Mitchell
Rose Garnett
This module also sees us begin a conversation around inclusion, and both the challenges and opportunities posed through adopting more inclusive business practices.  We will be hosting a panel discussion with Marc Samuelson, Chair of The BAFTA Film Committee, Melanie Hoyes, Industry Inclusion Executive at The BFI, Matthijs Wouter Knol, Former Director of The EFM and incoming director of The European Film Academy and it will be chaired by Producer, Victoria Thomas of Polkadot Factory.    
Matthijs Wouter Knol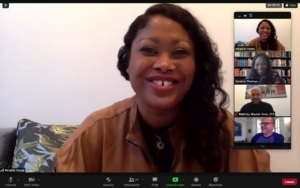 Melanie Hoyes
As well as a space for these wider discussions, module 3 also offers a much more personal and tailored opportunity for participants to discuss and receive feedback on their project work.  They will be having surgeries (in their project pairs) with industry experts from a range of specialisms, and this year our surgeons include: SALES; Caroline Couret-Delègue, Film Seekers Ltd, MARKETING: Bridget Pedgrift, FINANCE: Mark Woolley, Mark Woolley Consulting, GENERAL / PACKAGING: Chris Auty, NFTS.
The last year has thrown up lots of challenges for everyone.  For us here at Inside Pictures, it has proved to be a time for both resilience and reflection.  We are extremely excited to have a cohort who have whole heartedly embraced the online experience and seized the opportunity to share, learn and help drive the conversation of how we might move our industries forward.  The design of the module being online has led to even more intensive and shared learning within the group, and we're excited to see how their projects and businesses will continue to evolve.           
Here's to the week ahead!