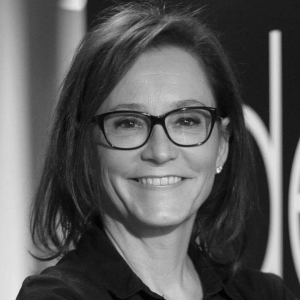 Alexandra Hoesdorff began her film career in the European Marketing and Distribution departments for Warner Bros. and Disney.
 Subsequently she produced Timeshare (starring Timothy Dalton and Nastassja Kinski), a co-production between Fox and Constantin Film. Also among her credits are numerous award-winning commercials for Saatchi & Saatchi and Eurocom.
Alexandra has worked as a producing partner with Julie Richardson (producer of DreamWorks' Collateral, directed by Michael Mann and starring Tom Cruise). Together with Julie, she also developed projects with writer-director John Huddles and executive producer Frank Darabont (The Shawshank Redemption and The Green Mile).
Alexandra was L.A. representative and producer for Luxembourg's Delux Productions, which produced The Girl with the Pearl Earring, The Merchant of Venice, Flawless, and An American Werewolf in Paris.
In 2010 Alexandra founded deal productions with acclaimed actress and television host Désirée Nosbusch. Together they produced Weemseesdet, the first Luxembourg-based sitcom for Europe's largest network RTL, earning the network's highest viewing ratings during 2011-2012 in Luxembourg. deal productions has a slate of international projects in development and pre-production.
With over 20 years of production experience in the U.S. and Europe, Alexandra was elected the first female member of the board and recently President of the Fiction Board of ULPA, the Union Luxembourgeoise de la Production Audiovisuelle – the Luxembourg Producers Guild and is an EAVE 2013 graduate.
1. How did you hear about the Inside Pictures program? What's your impression so far?
I heard about the program from alumni participants who told me that it is the best program ever…I have to say that they were right!
How often can one sit down with colleagues from all areas of the industry and talk about the current and future trends of the market for a full week at a time? The speakers and the participants are highly qualified and carefully selected, which brings a certain dynamic to the exchange of ideas and energies. The international network of high level contacts, as well as the information exchange, even after one week only, is of incredible value. I feel very confident that Inside Pictures will help me to get my company and professional goals to the next level.
As producers, we know the essentials, but we never get the time to sit down and really analyse and learn from the specialists and attendees from the different areas of the industry. It is important to exchange our knowledge of the different fields in order to further understand each other's needs in a rapidly and constantly changing market, as well as creating and spotting new opportunities within all areas of the business. In other words, I am convinced that Inside Pictures will help me to develop my industry business knowledge, management skills and extend my profile and cross-industry contact network.
If I could, I would love to do it once a year!
2. You founded your own production company in 2010, Deal Productions. What are the company's priorities this year?
We are currently building up our staff and are in development and production of several projects.
Our goal is to find ways to extend into TV series and access the relevant markets. I believe that Inside Pictures is the right platform to help me to expand my knowledge in this area.
I am very much looking forward to the Los Angeles Module which will also give me the opportunity to get into direct touch with Amazon and Netflix, crucial current and future players within the industry.
We are also looking at extending our financing resources and are currently in the process of setting up an equity film fund in Luxembourg.
3. You've worked on numerous co-productions in your career. What, in your opinion, are the most important elements of a successful collaboration?
Trust, Honesty, Teamwork, Communication.
A co-production is like a marriage, as you are stuck with each other for a while, you have to work on your relationship all the time. If you have the right team, it is a fantastic experience. It is therefore very important to do your due diligence in advance and see if your chemistry and philosophies match. Exchanging ideas and finding solutions together is essential. We at DEAL are very team oriented and therefore always want our partners to be involved from the get-go and that works the other way around too; making it OUR project, rather than only using the European co-production setups for the financing the film.
4. What are you working on at the moment?
We have a slate of projects in different languages with international co-producers in different stages of development and production. Here are the most advanced:
Year of the Hat, a fashion adventure romantic comedy, setup under the new treaty between the UK and China. We are currently casting the lead and are hopefully starting principal photography in September. Our co-producing partner is ECPG Studios in Tianjin. I am producing together with J Todd Harris in LA and Paula Crickard in the UK. (English)
Sawah, a comedy road movie, setup as a Luxembourg, Belgium, Egypt co-production. We are currently closing financing and are planning production for the beginning of 2018. We are co-producing with Caviar in Belgium. (English, French, Luxembourgish, Arabic).
Under the new World Cinema Program, we are currently closing financing on our first micro budget co-production. Flatland is an adventure road movie by acclaimed South African writer director, Jenna Bass. We are co-producing with Proper Films in South Africa and in Good Company in Germany. (Afrikaans and English)
Poison, a drama based on a play by acclaimed Dutch playwright Lot Vekemans. We are currently casting. Our co-producing partner is Phantavision in the Netherlands. (English)
Saving Mozart, a historical drama by Golden Globe winning and Oscar nominated director Gérard Corbiau. We are currently casting. Our partners are Saga Film in Belgium and Eclypse in Austria. (English)
Appetite, a dramedy by American writer-director John Huddles, is a Luxembourg-German-Austrian co-production, principal photography is planned for the second half of 2018. Our co-producing partner is Arno Ortmair from Film-Line and Eclypse. (English)
Bloody Mary is a Buddy Adventure Road Movie by writer-director Heidi Greensmith. The script is ready and we are currently setting up the Luxembourg, Irish, UK co-production. (English)