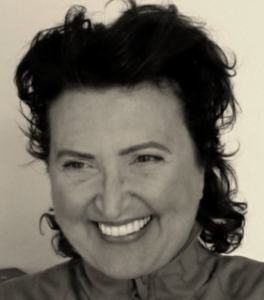 Ginger Wilson, PRODUCER, Ginger Ink Films Africa
Based in Nairobi Kenya, Ginger Wilson is a founding partner of Ginger Ink Films Africa. Ginger Ink has been producing, co-producing and servicing across the African continent for 25 years. Her portfolio includes eight feature films & two documentary features. NAIROBI HALF LIFE (2012), KATI KATI (2016), and SUPA MODA (2018), were Kenya's first three entries for the Oscars. The slate has premiered at Berlinale, Sundance, AFI, TIFF, Durban, IFFR and Palm Springs. Ginger Ink Films has also run the largest physical productions in the region, including SENSE8 for Netflix.
What attracted you to Inside Pictures (IP)? What aspect were you anticipating most?
Someone else who was applying told me about it, and then I turned out I knew lots of alumni! I called a  few and it seemed like a perfect fit for me. I wanted to explore new ways to get films in this part of the world financed by the UK and USA partners. They warned it would be challenging but rewarding. I didn't think I would be shortlisted as I am based in Nairobi.  I am super grateful they took the risk with me.
You produced the first three Kenyan features to be entered into the Oscars… can you say more about that.
There is a powerful history of filmmaking from all over the African continent, but NAIROBI HALF LIFE was the first Kenyan film production that met all the qualifying criteria for the Academy. And it is very good film! We had gotten funding from the German government to develop collaborative & mentored filmmaking which meant our Kenyan filmmakers could really focus on the quality of what they were making, without worrying about recoupment through local or international distribution. We could all really make the film we wanted to make. Ironically, NAIROBI HALF LIFE was an absolute gamechanger with local audiences, filling the cinemas in Nairobi for six months. It put pay to the myth that African audiences don't go to the cinema see African films. More Kenyans went to see it than any Hollywood blockbuster that year, even though it was still heavily pirated. It was pre-streamer days (2012) and piracy was still all on DVD. Copies of it were immediately being sold at roadside stalls and at traffic lights. But we weren't ever going to compete with that level of distribution, so were happy to celebrate that there was likely a copy of the film in every home and people still paying to see at the cinema. As for the Oscars, we didn't get shortlisted. There were no monies to campaign.  Despite being a "popcorn gangster film" it was a huge festival hit.
You have several films and TV series in development which you said "do not have precedent in the region". What do you mean?
Three of the projects are period. One goes back to the 1900's and travels through 1950's Mau Mau uprising, 1960's post-independence and through to 2002. Whilst its more in line with the retro period sets of say Small Axe or The Serpent – i.e. not the typical romantic period drama –  we will still need big period crowd scenes, vintage cars, uniforms, weapons etc in a country that's now covered in telephone masts, high rise and billboards. It won't be as simple as finding somewhere in Europe to recreate a location 100 years ago.  And we are also super excited to be developing high-end genre films too. Magic realism, psychological horror, dark comedy. The time is right. Let's make something new in scale and in genre.
FISHING WITHOUT NETS (2014) won Best Director at Sundance… You were a co-producer on that project… What in your opinion makes a good co-production?
Good co-production in this part of the world is about working with overseas partners who have a vision of the film they want to make, and the courage to surrender what they already know about how it 'should' happen. Filmmaking here is full of surprises. Physical and intangible. I love that. And in traditional sets elsewhere, it can too easily become about making it through the day, checking off boxes, instead of really creating it. The less brave can end up white knuckling it. But that is simple management. And deeply unsatisfying. You have to find a way to keep it all about the story in a somewhat unpredictable environment, and not look for people or things to blame.
SENSE8 (2015-2018) was the largest physical production in the region… On one day alone, you had 4000 people on set. Tell us about it.
There were fundamental challenges to having 3,000 extras and 1,000 crew in downtown Nairobi in a single day. Getting everyone there safely when it was still dark (call time was 5am, sunrise 6.30am). Feeding everyone on site with very little room to move or provide shade. And for the extras, signing in and paying everyone for the day. We worked with an events company and pioneered a sign-in digital bracelet – similar to the barcoded ones you get at festivals now. In the week prior, each bracelet was registered to the person's phone number at a local sign in station in that community, by community leaders. We managed to pay everyone by mobile money by the end of the day after wrap. It meant the set itself was not a target for being cash heavy, and neither were the buses that took everyone home. It was was one of the most exhilarating shoots I have ever been on. And supporting Lana (Wachowski) with an environment where we could be agile to script changes was super demanding but equally rewarding.
What's been the greatest impact on you/your company from COVID?
All our service business stopped in the course of a week. We shoot all over Africa, and suddenly, no one could come from USA or Europe to anywhere on the entire continent. International flights into Kenya stopped. The Kenyan tourist & hospitality industry shut down with redundancies in their workforce – managers to accountants to drivers all put out of work. It had a huge knock-on effect.  Extended families were being supported by the few remaining in work, and it really took a toll on the poorest here. It was heartbreaking, and also moving to see how communities came together. 
We managed to keep everyone on payroll, and production enquiries eventually began to pick up.  My husband and business partner Guy was extraordinary. He got everyone very good very quickly at remote filming. And the upside was this meant our clients had to trust our Kenyan crews to shoot everything. Normally, they would bring in their own producer, director, client, and way too many heads of department. Post-covid, we'd have a director in Kiev, with the agency in Japan, and we're shooting at Lake Turkana with an entirely Kenyan crew. Everyone had to adjust to what is always the slowest thing on set – the decision making hierarchy. It made it much harder to make the day with everyone on zoom, but once anticipated, we found a new rhythm. 
What changes in response to COVID are likely to remain changed forever?
The capacity to prep and shoot remotely. Now that we can be effective at that, it's a more valuable, diverse and agile way to work.  Elements of this will stick around, with less prep in country from overseas teams, and I am happy that means more senior level work for our local film crew.
And I can't wait to welcome back big budget, in-person collaborative productions. The kind of creativity that this environment pulls for, when you put people together in this arena, its magic. People and new possibilities come alive. We are often told from newcomers that our sets are the happiest and most energised in the world.  
Post COVID across all industries and particularly ours, there is a deeper respect for reasonable working hours, health and safety, and a deeper awareness of the importance of mental health. That awareness is irrevocable. 
If we were at the start the pandemic today, with what we know now, what do you think you and/or company   would do different to make it better/easier on the company and/or your own well-being … Advice, tips and tricks welcomed…
I would have spent a lot more time developing stories with collaborators in writers' rooms. I wish I had trusted my instinct more –  that with lock down, and the flourishing of streamers, that appetites for international content from different cultures was going to be a certain outcome. And I would have had more production-ready content for that. Appetite for African content is now at the tipping point that Korea was before Parasite and Squid Game. There is a rush to fulfil on that now.
And from an HR perspective, I would have found more creative ways to keep staff engaged, productive and experience themselves as being useful whilst working from home. It was obvious people were appreciating being at home with their families. Less obvious was people's need to be productive.
It's a Sunday afternoon, it's raining. What film you're putting on to relax with?
I don't often watch films twice, and I do keep circling back to the Adam Curtis doc series CAN'T GET YOU OUT OF MY HEAD. What a feast of ideas and soundtrack. And I love David Byrne's AMERICAN UTOPIA. If I had to nominate a feature for a Sunday afternoon then old favourites FIGHT CLUB (1999), or MALCOLM X.