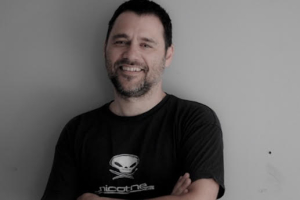 Giorgos was born in 1973 in Athens, studied Political Sciences at the University of Athens and Finance at the Hellenic Management Association while taking courses on script writing. In 1998 he joined Stefi Productions and was the General Manager and Head of Events from 2007 to September 2012.
He is the founder and producer of Synch Festival (2006 Best European Electronic Music Festival). During his career as event producer, he has promoted shows by artists such as Pet Shop Boys, Antony and the Johnsons, Nine inch Nails, Einstuerzende Neubauten and Roisin Murphy.
He entered film production in 2010 and is a member of ACE and the European and Greek film Academies. He was a Producer on the Move in 2013 when he created Heretic with Konstantinos Kontovrakis.
 1. How did you hear about the Inside Pictures programme? What's your impression so far?
I stumbled upon it on the web I think but then I spoke with some friends, producers I respect a lot, and they recommended it highly. So I decide to go for it. Luckily, I was selected and I am really happy about it!
2. You launched Heretic Outreach in 2014 as a new concept, one-stop sales agent/consultant/strategist for filmmakers from South-Eastern Europe. Can you tell us about the journey so far?
The journey so far has been great and we are developing it year by year. It is so refreshing to have this activity besides producing in the company. It gives us a clear overview of the projects in development and the local market, and helps us also build fruitful relationships with talent. I would say it is a structure that can help a company based in a country like Greece have an international impact and appeal.
3. As part of Inside Pictures, we match each of you with a mentor from our extensive alumni network. You've already had your first introduction to your mentor; what are you hoping to get out of the relationship?
Well the most important thing is to actually build a relationship itself. I am really happy to have met my mentor and I think we communicate in a cool way. I am grateful he has given me the green light to send him stuff and always has a minute for me. Let's see; maybe at some point we could do something together on a real project?
4. What did you find most valuable about Module 3 in London?
I really enjoyed the sessions with David Solomon ( Sun and Moon Training). They were fun accompanied with self-consciousness and negotiation skills; a killer combo!
5. What does 2018 have in store for you?
We are releasing 4 projects as producers (Lambda Pi , The Harvesters, Booty and Virus) which we have big expectations for. Producing-wise, we are shooting a very ambitious feature in February in Athens which is a co-production with Bureau, Top Kapi and Chouchkov Brothers directed by Siyamac Etemadi, plus our first US film – a documentary to be directed by Alethea Avramis. A couple more films will move to production by the end of the year. On the sales front, we just acquired two beautiful films – Holiday and The Reports on Sarah & Saleem which are premiering in Sundance and Rotterdam competition respectively. Lots to look forward to!