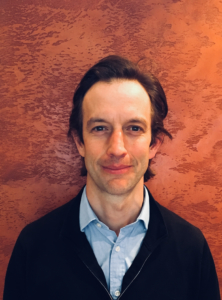 Justin qualified as a solicitor in 2000 specialising in intellectual property law. He then worked in business affairs for various media companies including De Agostini, Bloomsbury Publishing, Network Distribution and United Agents whilst also producing the feature film HOW TO BE, starring Robert Pattinson.
In September 2013 Justin joined Recorded Picture Company and HanWay Films as Head of Legal & Business Affairs. He advises on all commercial and legal aspects of development, finance, production, marketing and distribution of films produced by Recorded Picture Company (including HIGH-RISE, DOM HEMINGWAY and ONLY LOVERS LEFT ALIVE) and sold by HanWay (including MARY SHELLEY, THEIR FINEST, BROOKLYN, CAROL, ANOMALISA, MY SCIENTOLOGY MOVIE, TALE OF TALES, A PRAYER BEFORE DAWN, and the forthcoming COLETTE, THE HUMMINGBIRD PROJECT, THE WHITE CROW, FARMING and PINOCCHIO).
What attracted you to the Inside Pictures programme? What's your impression so far?
I was most attracted by the US module and the opportunity to meet and learn from fellow participants and industry experts. After the first module I am excited to have met so many great people also participating on the course from such diverse and international areas with whom I'm looking forward to hopefully working together with in the future.
You have a broad remit working across Recorded Picture Company and HanWay Films. Which are the most interesting contracts to negotiate? Which are the most annoying? Any top tips for producers and sales agents how to make your life easier?
The most interesting contracts are the ones that deal with new ways of working together. For me these tend to be development and production finance agreements, because you need to anticipate numerous outcomes and structure complex recoupment positions. The most annoying are Notices of Assignments and security agreements because they take up so much time and are so rarely called upon with the desired effect. Top tips for me are:
Follow the BFI protocol on financial closings (including the use of the Transaction Summary Sheet, Document Check List, appropriate subject headings and documents labelling);
Use HanWay's template agreements (including certificates of engagements, chain of title statement, premiere and bonus spread sheet and music cue sheet);
Comply with HanWay's music memo that goes through all the things to watch out for when dealing with music in film;
And be available, polite and have a sense of perspective!
Netflix and Co have been the talk of the industry for several years now. What impact has in particular the Netflix buy-out model on contracting?
If there's a Netflix offer then the main issues are (i) can it be accommodated with any existing distributors, and if it can, then will it be commercially better than selling on a territory by territory / media by media basis; and (ii) how important is it to the film makers for the film to be instead released in cinemas with culturally curated marketing?
You've also worked as producer. Any ambitions to have a go at producing films again?
Yes, I would love to produce again, although the more I work in the film business the more I witness the challenges faced by producers, so I will wait to see if and when the time is right.
Which upcoming RPC/HanWay projects are you most excited about?
I'm excited about RPC's production of Matteo Garrone's live action adaptation of PINOCCHIO and we're in post-production on a new Japanese film continuing our long partnership with Toshiaki Nakazawa (winner of first Japanese Academy Award® for Best Foreign Film).
On the HanWay side there's so much to choose from, but I particularly like A PRAYER BEFORE DAWN out now in cinemas directed by Jean-Stéphane Sauvaire, which is an amazing true story about Billy Moore, an English boxer incarcerated in Thailand's notorious prison. Then there's Ralph Fiennes THE WHITE CROW (about Rudolph Nureyev's life and defection), the amazing COLETTE starring Keira Knightley, Adewale Akinnuoye-Agbaje's directorial debut, and the extraordinary true story FARMING and then THE HUMMINGBIRD PROJECT, which premiered at Toronto.
What do you see as the main challenges to getting films made today?
I think securing and holding on to writers, directors and cast is particularly difficult, particularly with the rise of high end TV. Also UK producers are suffering from the drop in international pre-sale value, so financing is increasingly complex even for lower budget films. I hope the UK government will take on board PACT's proposal for the UK producer tax credit to be increased for certain UK films.