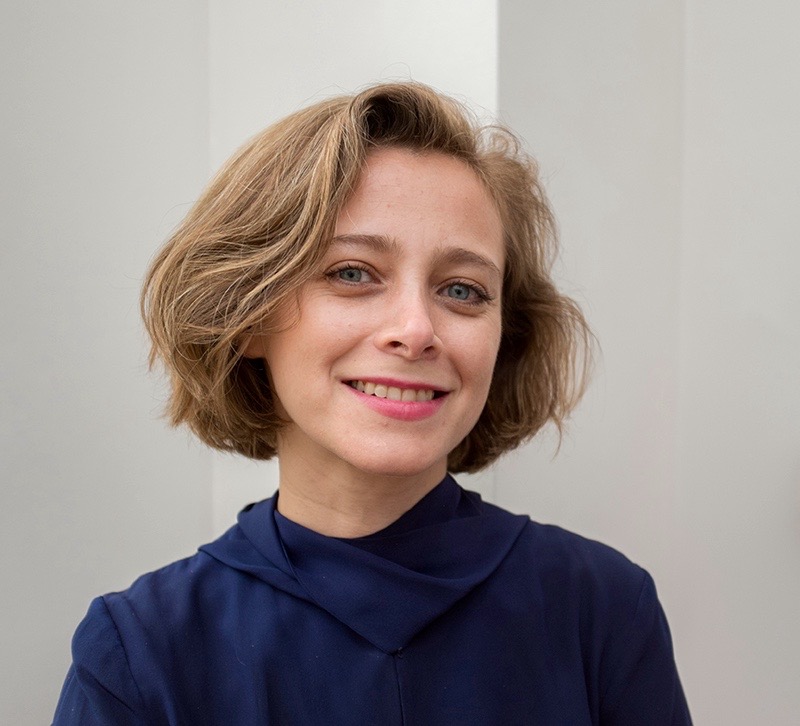 At Altitude, Karina oversees all aspects of International marketing and publicity across a diverse slate of projects. Her role requires her to collaborate with a wide range of stakeholders from filmmakers, executives, agencies and distribution partners to ensure the maximum visibility for each project. Karina's involvement begins at the pre-production stage working closely with filmmakers to create early marketing materials for a film that often doesn't yet exist right through to festival launches.  She worked on the documentary DIEGO MARADONA from the Oscar winning director Asif Kapadia which had its World premiere in Cannes 2019, Sarah Gavron's ROCKS, Nick Rowland's debut feature CALM WITH HORSES and hybrid documentary CHASING CHAPLIN – currently in post-production.
Prior to joining Altitude, Karina headed the marketing team at the sales and production company Independent, working with filmmakers such as Lynne Ramsay, David Mackenzie, Carol Morley and Sean Ellis. Karina started her career at Paramount Pictures looking after international media campaigns for Paramount Vantage titles such as NO COUNTRY FOR OLD MEN, THERE WILL BE BLOOD and BABEL. She has also worked for Secret Cinema on the site-specific immersive STAR WARS event.
Apart from her job at Altitude, Karina consults for the Rotterdam Film Festival and Cinemart lab as their Industry coach for filmmakers and producers, runs sessions on International Sales and Marketing Strategies at the NFTS MA in Marketing & Distribution as well as mentors on the Birds Eye View Future Leaders in Distribution programme.
What attracted you to Inside Pictures? 
I had heard about the programme from previous alumni including Andrew Orr with whom I worked at Independent.
My main goals were to improve my understanding of development and film financing, and a better overview of the whole value chain.
Now that we are pretty much at the end of the journey, I can confirm that the programme is absolutely incredible! I was very impressed by the quality and variety of the speakers as well as the amazing curation of 2019's group.
What aspect of the Inside Pictures programme has had the greatest impact on you so far?
Module 3 was a very practical and hand-on week covering useful techniques, valuable role-play sessions and opportunities to reflect on personal skills and development. I have already utilised some of the negotiation tips in my job.
What could you say to encourage other film professionals from to apply for Inside Pictures programme?
I would encourage every film professional who is looking to expand their knowledge and understanding of the film industry beyond their specific role to apply for this course. It's a unique opportunity to step outside what you do, and get a wider perspective on the industry and current trends in film and TV.
Even if you think you know it all and have experience in different areas of the film industry, Inside Pictures will connect all your knowledge and experience into a cohesive understanding of how to finance a film, make a film and then release it.
The programme is really well thought out and curated thanks to the amazing Julia Short. You get to hear from top film executives on the key topics and challenges facing the film industry. Plus, you will get time to reflect on how you can best navigate, and take a more active role in, this evolving film landscape – and make a difference.
On top of all this, you get to spend time in the company of inspiring industry executives with whom you can share ideas, have debates and who become your friends for life.  2019 was of course the best year to do the course with all my amazing fellow legends!
What are the types of early marketing materials you tend to create with filmmakers during the pre-production?
Essentially, the production of early marketing materials is a branding exercise. We create them with the end consumer in mind, but really this work is targeting international distributors.
In most cases Altitude comes on board at script stage. From the script, we identify comparables and work out a market positioning statement for the film. We work closely with the filmmakers to create a synopsis, a look book, and create a teaser poster – a conceptual design that will illustrate and clearly position what the film is going to be.
There are key film markets throughout the year to meet with distributors – Berlinale, Cannes, TiFF and AFM. We try to have something new for each film project, at each market, to generate pre sales – where that's an aim – and/or continue conversations with interested distributors.
In terms of selling and marketing films what changes have you seen over the last decade as we approach 2020?
On the business-to-business side, the role of a sales agent has slightly changed. The sales agent used to sell a film on behalf of a producer. Now, the role is to work more closely with producers. By working with them from pre-production, we can create marketing tools that, in some cases, help them get some of their financing in place.
On the other side, the sales agents role is also much more than delivering the film. The distributors now expect the sales agent to play a lead role in the positioning of the film; to provide the marketing tools for the release, and they rely on the international sales agent for the marketing strategy. The more we understand the end-user, the more we can create the brand early on and a campaign that will be relevant all the way through.
For business to consumer marketing, there's been a move away from creating TV ads. Greater emphasis is now placed on the social media and VOD platforms.
A good example would be Asif Kapadia's documentary DIEGO MARADONA. This film has a number of target audiences: football fans, Kapadia fans and documentary fans.
For football fans we focussed on how incredible and iconic Diego Maradona was as a player. Whereas Kapadia fans needed to know DIEGO MARADONA was from the director of AMY and SENNA. While documentary fans are more interested in the way the rise and fall of a sporting icon story is told. In Scandinavian countries we honed in on the emotional journey. There was very little football in the marketing content. It was more about his relationship with his family, his parents and his peers.
VOD platforms, like Netflix, have a lot of useful data on their customers' preferences. They are able to use that data to be very specific with how they target people with your film. Ten years ago, this wasn't an option.
What innovations in marketing/selling a film are you most proud to have been a part of?
The production team of ROCKS, film by Sarah Gavron, gave the seven leads – teenage girls – mobile phones to film during the shoot. They recorded themselves dancing, singing, interviewing each other and filmed on-set video diaries. We now have a vast library of amazing social media assets that we can use in the lead up to the release. What they've produced between them captures the energy, authenticity and the vibe from when they were on set together. This isn't something you can easily re-create once the film is finished. I am super proud to be part of this project and think this is the way forward with creating materials for films where the audience can easily be reached through social media.
How important are films festivals to independent productions from a sales and marketing point of view?
Festivals are probably more important than ever before. I would say that five or 10 years ago, arthouse films could pre-sell at script stage. Today, there are more films competing with one another; distributors can afford to wait for the finished film and see how it launches and what sort of reviews it gets.
Having a world premiere at Berlin, Cannes or Toronto, for us, is key. It creates a momentum for the film – even if it is fully pre sold a la Asif Kapadia's DIEGO MARADONA. 2019's Cannes World Premiere generated great press reviews, Kapadia was invited to a lot of panel discussions and there were many in depth interviews published. The whole experience confirmed the film's importance on the international stage and gave a boost to distributors who had already bought it.
In addition to the industry buzz, the festival reactions and red carpet footage help to build audience awareness of your film too.
Which of your film projects are you most excited about right now?
We have a really great supernatural thriller that is currently in post. Its a feature film debut for BAFTA nominated writer/director Corinna Faith and stars A QUIET PASSION's Rose Williams. Set in 1970s London, when striking miners and electrical blackouts plunged the country into darkness. Williams plays a nurse who finds herself forced to work the night shift in an old hospital and is confronted by a terrifying presence that is intent on destruction.
It's a smart horror with a very female cast and crew. Plus, the female punk band, GAZELLE TWIN, are recording the score.
In the last ten years, what film(s) do you think benefitted from clever marketing strategies?
I, TONYA was a really clever, dual trailer strategy. The Red Banner trailer has the C-word and all sorts of out there lines – promising the film would be an edgy biopic. That definitely made me go and watch it.
I would also add MIDSOMMAR – the Ari Aster second feature. A24 created a very early teaser campaign that helped position the film as a must see event of summer. They started with just flowers, but you knew it was a horror. It was already intriguing audiences before they released the main trailer. They had a countdown to the trailer drop, which didn't advertise the film, just the trailer drop. Normally, only studios do this. To see it successfully done for a more arthouse, genre film, was really great.
If you were in charge of Britain's national film policy, what would you advise the government to do to ensure more people across the globe saw British movies
I would say create a special fund to give grants for British comedies. I think there's definitely demand in the marketplace for comedies that are not American, and the British comedies could definitely fill in that gap.
The perception of a typical British film these days tends to be mainly either social realism or period dramas.