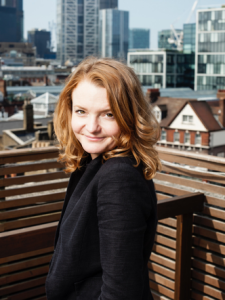 As co-founder and CEO of Pulse Films (UK and Europe), Marisa Clifford has been instrumental in growing the company from its inception into a multi-award-winning global media company and studio for the modern day. Since forming Pulse Films with Thomas Benski in 2005, she has overseen production of all the company's award-winning film, television, music, advertising and digital content.
Clifford has been pivotal in positioning Pulse as a creative force and has played a vital role in building the company's roster of top-tier directing talent. She has worked with a host of market-leading agencies, brands and partners. Her innovative direction has been key to the company's global expansion, leading to new offices in Paris, Los Angeles, New York and Berlin.
Pulse has both been nominated for and won a host of leading industry awards including Grammys, BAFTAs, Sundance, MTV Music Video Awards and D&ADs – across all its business disciplines. The company was also recognised as one of the fastest growing creative studios in 2012, also winning the Outstanding Achievement Award in the same year for the Sunday Times Virgin
Fast Track 100 programme. Fast Company also named Pulse the 4th Most Innovative Global Company in Music in 2013 – just behind YouTube and Spotify.
Clifford is an active member of a number of industry organisations, including Women in Film and Television, Action for Children, and the APA Council.
1. How did you hear about the Inside Pictures programme? What's your impression so far?
I heard about it through my business partner, Thomas, who did the course a few years back. I also know many people who have attended and have always raved about the whole experiences. We just completed Module 2 in LA which was so informative – I met some brilliant contacts and the whole group really came together. So far, it's been such a brilliant and enlightening experience during which I have learnt a lot!
2. As co-founder and CEO of Pulse Films, you've had an extraordinary journey in the industry so far. What has been your career highlight to date?
Wow, tough question! I couldn't pick one thing as there have been many milestones and highlights over the years. Standing in the middle of Madison Square Gardens getting ready to shoot the closing gig for LCD Soundsystem, for our Film Shut Up and Play the Hits was a pretty epic moment. Going to the BAFTAs a couple of years ago for our film, 20,000 Days on Earth was also pretty special. Any time you go to a big awards ceremony and win, it always feels pretty darn incredible and worth all the immense hard work.
3. Building a successful business has its challenges. What do you wish you had known before starting Pulse?
Well, I was only 24 when we started Pulse so it's safe to say there was a heck of a lot I didn't know! But, actually, that total naivety served us well. It allowed us to do things and hustle our way into some full-on meetings and situations which, looking back, seem pretty damn ballsy,
4.What are you working on at the moment?
A lot! I am right in the middle of some very exciting expansion plans for Pulse around Europe. We are in productions on our first big drama scripted series which is huge with two other incredible drama series following close behind. I am producing a couple of films which will shoot next summer. We've also got some other fantastic movies upcoming, documentary projects, a big unscripted landmark series and some exciting ads and videos too!