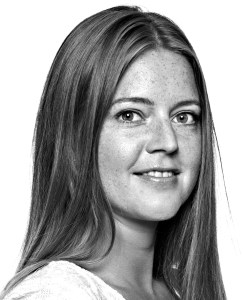 Nina Bisgaard is a Danish producer and Head of International Financing & Co-productions at the two closely combined companies Meta Film and SAM Productions. Nina has worked as a producer at Meta Film since 2011 and at SAM Production since April 2015.
Meta Film was established by CEO and producer Meta Louise Foldager (A ROYAL AFFAIR, ANTICHRIST, MELANCHOLIA). While at Meta Film, Nina has produced film in Denmark (Flow, Summer of '92), co-produced with Scandinavia, Germany, UK, France and is Executive Producer on the company's first Swedish language film ANIARA out of Meta Film Stockholm and the first Meta Film London English language film THE WIFE starring Glenn Close.
In 2014 Meta Louise Foldager joined forces with writers and executive producers Søren Sveistrup (The Killing) and Adam Price (Borgen). Along with STUDIOCANAL they founded SAM Productions, a screenwriter based production company producing TV-series for an international audience. At SAM Nina has orchestrated the financing and is executive producer on the first two TV-series at SAM Productions that premiered in 2017 (Below the Surface, Something's Rocking), both are international co-productions and has already been sold to a number of territories.
Nina Bisgaard studied Film & Media Science at Copenhagen University, Art History in Lyon and holds a BA in Nordic Literature. She is an EAVE Graduate (2016) and Inside Picture participant (2017).
1. How did you hear about the Inside Pictures programme? What's your impression so far?
I heard about it through the EAVE program that I attended in 2016 and was excited to learn more about the US film industry. My expectations have been fully met so far; I feel super privileged having all these brilliant people giving talks and sharing their insights. I highly recommend Inside Pictures to everyone in my network.
2. What does your role at Meta Film/SAM Productions involve?
I'm responsible for securing international financing on the films at Meta Film and the TV-series at SAM production. This involves lots of travelling to financiers and broadcasters, building a strong network and discussing our projects to set up the strongest co-productions. Besides that I'm always working as a producer on a passion project I choose myself. At the moment it's director Ali Abassi's film BORDER a story by the writer of LET THE RIGHT ONE IN.
3. In your experience, what are the most important factors to a successful co-production?
Choosing the right co-producers is key. You're going to work with them for most likely a couple of years on a weekly basis at a minimum, so before committing, spend time with potential partners and get to know them. It is also important to map out all the pros and cons to embarking on a co-production with a specific country to make the right strategic decision. Finally, respect cultural differences that can lead to misunderstandings and enjoy figuring out how to communicate across borders to make it work best.
4. What are you working on at the moment?
Right now now I'm standing in a forest far away in the Swedish wilderness shooting Ali Abassi's Swedish film BORDER. And I'm closing financing on an international TV-series that starts shooting in a couple of weeks, as well as a Danish feature film that will be shooting on the Canary Islands.
5. What did you find most valuable about Module 2 in LA?
Besides the impressive level of inspiring speakers and participants it was being on the ground and getting such a terrific overview. Visiting people in their offices and at the studios was super interesting and lots of fun. It's given me a much clearer picture of the business side of Hollywood.