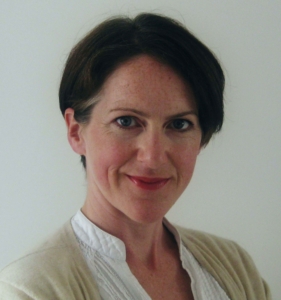 Tracy O'Riordan is a BAFTA nominated UK based independent film producer.  She set up Moonspun Films in 2008.
Tracy worked as a drama development executive and story editor before moving into physical production in 2002, when most notably she worked on the multi-award winning THE QUEEN directed by Stephen Frears. Following this, Tracy worked as a Production Executive overseeing a slate of micro-budget feature films as part of Liverpool Capital Of Culture 2008, which included the acclaimed OF TIME AND THE CITY by Terence Davies.
In 2010 Tracy produced THE ARBOR, the directorial debut of Clio Barnard, which won many national and international awards and was nominated for a BAFTA for Outstanding Debut. Following this, in 2012 Tracy produced THE SELFISH GIANT; Clio Barnard's second feature, which was selected for Director's Fortnight, Cannes Film Festival 2013 and was nominated for a BAFTA for Outstanding British Film. In 2016 Tracy produced Clio Barnard's third feature DARK RIVER starring Ruth Wilson and Mark Stanley, which screened at TIFF (Platform Prize – Honorable Mention) and following that in 2018 Tracy then went on to produce MONSOON, the second feature from Hong Khaou (LILTING), which was shot entirely on location in Vietnam, starring Henry Golding and Parker Sawyers. DREAM HORSE followed in 2019, producing alongside Katherine Butler for RAW/Film4, Ingenious, Film Cymru Wales. DREAM HORSE is written by Neil McKay, directed by Euros Lyn and stars Toni Collette and Damian Lewis and premiered at Sundance in 2020. The same year Tracy also produced Clio Barnard's forth feature ALI & AVA, a love story set in Bradford, starring Claire Rushbrook and Adeel Akhtar, which recently won two BIFA awards and will be released in the UK on 4th March 2022.
What attracted you to Inside Pictures (IP)?
The film industry is in a state of flux. I felt that IP would be a good opportunity to hear from a cross section of peers and the high-profile speakers on the scheme, about where we are now, and look at where we are heading.
You have been a development executive and story editor prior to becoming a film producer. How has that experience helped?
The screenplay is the foundation of the narrative fiction films I produce. So having an understanding of the individual writing process of the writer and developing a set of skills with which to help bring out the best in that writer's work is fundamental to my role as a producer and something that is constantly evolving as I learn more about the craft.
I have always loved reading and losing myself in the world of a story; being transported to different times and a myriad of different places and lives real and imagined. I have huge admiration for the level of artistry in good writing in any medium, be it novels, poetry, theatre, screenplays, etc. Early on in my career, I spent several years trying to get my foot in the door of the UK film industry and eventually I secured a job for a small indie production company. I attended an Arista screenwriting workshop as a story editor and found it really inspiring. It introduced me to Aristotle's 'Poetics,' opened up the world of storytelling and highlighted the import of understanding the process. The art of the screenplay was new to me at that stage, so I read many books on screenwriting and sought out as many screenplays as I could find and started educating myself. I also worked as a freelancer; writing script reports for other companies.
I think it was at Arista that one of the tutors noted that 'a lot of people think that they can sit down and write a screenplay, but they wouldn't sit down and think they could write a symphony'. I believe good screenplay writing is an art; there is the learning and gaining experience part of the craft but also there's an innate ability and intuition. A fundamental part of my job now, is to understand the writer's process so that I can help them by understanding how to give good notes, when and when not to give notes and how to decipher notes from the financiers to feed back to them in a helpful way. Also having collaborated on the script with the writer it helps when going into the edit, which is effectively a rewrite of sorts, so it's great to have that wealth of knowledge of how the screenplay became what it became as it morphs from words on a page to a visual medium.
I really like to understand everything in the process – working with writers, lead to me learning the software (e.g. Final Draft); revision mode, tracking changes, locking the draft etc so that was an advantage when I left the small indie and started working my way up through production as an APOC, & Co-ordinator. I then took a course on budgeting and scheduling and learnt Movie Magic software on my way up through PM'ing and Line producing, so I can budget and schedule the films I produce.
You've worked with Clio Barnard on all four of her feature films. In your 2011 BAFTA interview you say: "you were incredibly proud … to have found such a talented director (Clio Barnard) to work with" What circumstance brought you together for the first film?
THE ARBOR sprang out of an Artangel commission with Channel Four. It was an open submission for four pieces of art by four artists, not necessarily conventional filmmaking or storytelling. Clio was picked for one. She had already made short films at that point, but she wanted to make a feature film – the project was initially called BUTTERSHAW and centered on the life of the playright Andrea Dunbar (RITA, SUE AND BOB TOO) and the Buttershaw Estate in Bradford, where Andrea lived and tragically died at the age of 29. Clio had been recording audio interviews with relatives of Andrea and residents of the Estate for about a year and had recorded over 80 hours of audio when both Michael Morris (Artangel) and Clio realised they needed a producer on board to take it forward. I had just finished working on a series of films in Liverpool, one of which was Terence Davies's OF TIME IN THE CITY when they contacted me. I had seen RITA, SUE AND BOB TOO and loved it. I had also production managed a documentary, several years before, about teenage repeat offenders and heroin addicts in Middlesbrough. I think it chimed with some of the stories Clio had been exploring – Buttershaw was flooded with heroin in the 90's.
THE ARBOR, in of itself, is such an extraordinary journey for a first feature. Initially no sales agent or distributor would touch it. They were confused by people lip synching. What is it? A documentary? Is not a documentary? I think once we had made it, it played at film festivals and it started to garner a significant level of recognition and win awards – that took us by surprise.
A decade on, ALI & AVA, Clio's 4th film is out. For the aspiring producer reading this, what advice can you offer about maintaining a healthy and creative partnership with an auteur filmmaker
I think that we knew from THE ARBOR, that we wanted to work together again, and THE SELFISH GIANT naturally sprung out of THE ARBOR. In some ways, this has been a pattern, the projects have led on from one to the other.
Clio's projects are organic and deeply rooted in people and place, and I love the way they evolve from initial idea, through to script, shoot and edit. It's a rich and creatively rewarding way to work. Because Clio is so collaborative, people are really open with her. They trust her with their stories. How she takes these stories and weaves fact and fiction I find fascinating.
Clio is incredibly collaborative and I love being at the coalface. In development, I'm there to give notes, I'm there to dive deep, if we want to dive deep or just to do a quick script read and give some headline notes. On set I am there every day and I've done everything from herding sheep, to gritting icy footpaths, choreographing dance routines and directing 2nd unit. No day is the same.
It is a unique working relationship, because sometimes you are spending more time with this person than your own family. It can be quite intense. Producing can be stressful and incredibly lonely, so it helps to have a strong collaborative relationship with the talent. I think we both can't help but immerse ourselves in projects once they've begun. I don't see how you could do it light of touch.
What's been the greatest impact on you from COVID?
I'm at least a year behind on getting my next production off the ground. The first UK lockdown happened in the last week of picture lock for ALI AND AVA. We filmed pickups on the 2nd, 3rd and 4th March in 2020, and two weeks before picture lock, the country locked down.
We were lucky we got those pickups. Certainly, compared to people who were either about to shoot/ mid-shoot, or that financing had locked. I can't moan too much, because on a film like mine I just don't know what we would have done to shoot it under COVID safety protocols. Many of our scenes had up to 25 crew members in a very small house. We'd have people in the bathroom upstairs. Costume in the bedroom. I mean basically we were crammed in there. You couldn't have done that safely during the pandemic.
We decided to keep on going and not shut the production down by doing sound, post and the grade remotely. We sent monitors to Clio in Whitstable; to our DoP up in Glasgow for grading work. We did the ADR remotely too. Equipment was biked to our actors' houses and Clio directed via Zoom. Clio wasn't allowed to sit in the sound mix. The sound mixer was downstairs in the massive studio, she was on headphones, in an upstairs room. I was allowed to go in during lunch hour, once the sound mixer had left the building, for 15 minutes. The chair was sanitized, and I wore a mask to watch and listen to each reel. When it came to signing off on the sound, I felt it was just impossible for us and the financiers to do remotely on a laptop This felt like a compromise too far. So at that point we put ALI AND AVA on hiatus until September 2020, when we could all work from the mixing studio in person. It took three more days than planned, but we got the mix we wanted.
Everything took three times as long and it reached a point where COVID restrictions made the process joyless and sterile. For example, my assistant spent three months tracking down the right people to get clearance for one poster – as everywhere was shut. At the end of it, ultimately we got a film that we're really proud of, but delivered almost a year later.
What changes or innovations in response to COVID Have you seen that will be for the greater good of film industry going into the future? And what can you wait to see go back to normal
I think if you're trying to get something done on time that's creative or technical, and you know those people, Zoom is great. You can accomplish quite a lot. For instance, I got on a Zoom call recently. A really quick call organised at short notice. I spoke to four European distributors who had picked up ALI AND AVA. It meant that without leaving our office, we could have a meeting and all be on the same page by the end of it.  Very quick and easy and saved lots of travel time, costs and is much more eco friendly. 
A downside is lack of face to face/human to human contact.  I think we're all less excited about Zoom now.  Also, with more online activities, more people are asking for a screener link to your film, instead of trying to attend an advance screening. It worries me that the smaller films may not be seen as much – by journalists and buyers – on the big screen as before COVID. We are making our films for the theatrical experience ultimately, that is what Clio and I want for our films.
If the pandemic started today, what do you think you and would do different to make it better/easier on the company and/or your own well-being … Advice, tips and tricks welcomed…
If the pandemic started today I would set up a PPE procurement company as a side arm business and then move to New Zealand to retire, but then again I don't know any one in government who would fast track me….so that's just a fantasy.
As an independent producer, pandemic or no pandemic, film producing is very stressful and there is a built in level of uncertainty, so, I suppose as time has gone on I have become used to it being feast or famine, endless plate spinning, lots of unknowns and stop, start. In a way some of the effects of the pandemic didn't feel like a huge change. I am a lean outfit, so that gave me flexibility to look after my staff and luckily I was in post – some of the huge logistical issues of shooting didn't effect me. I take my hat off to all those people who got their sets up and running, adopted the protocols, and worked through it.
My dad's advice has always been: "Just get your head down and get on with it." He came to the UK from Ireland in the 60's with 2 shillings in his pocket, he worked his way up and never once did I hear him complain. He met my amazing Mother in an Irish dance hall in Ealing. They are incredible and inspiring people and I'm lucky to have that foundation as well as a brilliant partner and two children of my own.
My close friend was working on the front line in ICU at St Thomas' and during lock down (when you were allowed to go out and meet one person from a different house hold) we used to meet for a socially distanced drink on a bench in Holland Park, she told me what she was dealing with, so that put what I was dealing with in perspective.
It's a Sunday afternoon, it's raining, you've nothing else to do that day, what film are you putting on to relax with?
I have narrowed it down to films with dancing and as it's supposed to be relaxing, it would therefore be a bit of a guilty pleasure and if I am only allowed to choose one it would have to be Dirty Dancing.