With the participants for Inside Pictures 2016 announced and as Summer blissfully starts to appear, we are delighted to celebrate the achievements, awards, career moves and new releases from the global Inside Pictures alumni network that have occurred this Spring.
Love & Friendship
FILM RELEASES AND ANNOUNCEMENTS
Amazon Studios and Roadside Attractions have picked up LOVE & FRIENDSHIP, a Jane Austen adaptation produced by Blinder Films' Katie Holly (Class of 2011, Ireland) and co-produced by Revolver Amsterdam's Raymond van der Kaaij (Class of 2013, Netherlands), for joint release in theatres and online. The film premiered at Sundance followed by the European premiere at IFF Rotterdam where it was also picked up by Cinéart for Benelux distribution. Curzon Artificial Eye will distribute in the UK. Read more
Fabien Westerhoff (Class of 2012, France) is exec-producing feature THE TRACE WE LEAVE BEHIND (dir. J.C. Feyer). Westerhoff joined the film during development and is steering the film's international career. He noted, "Here is an ambitious filmmaking team embracing genre to deliver these in an entertaining yet meaningful way to a global audience, in the footsteps of other recent foreign language genre successes such as 'Under the Shadow,' 'Goodnight Mommy' or 'We Are What We Are.'" Be sure to scroll down for info on Fabien's recent career move, also. Read more.
Joris Van Wijk (Class of 2015, Netherlands) has negotiated a deal with NY-based production company Dutch Tilt Film for the US screen rights to Marion Pauw's hit novel GIRL IN THE DARK. Originally published in Dutch in 2008, the book was a bestseller in the Netherlands, winning the annual award for the best Dutch crime fiction and adapted into a 2013 Dutch-language film. The book is now being published for the first time in English by William Morrow (an imprint of HarperCollins) and Joris negotiated the film deal on behalf of the author and publisher Ambo | Anthos. Read more.
Arvind Ethan David (Class of 2008, UK) is exec-producing an eight part adaptation of the Douglas Adams novel series DIRK GENTLY'S HOLISTIC DETECTIVE AGENCY for BBC America. Written by Max Landis, the series will star Elijah Wood and Samuel Barnett. Read more.
Bodkin Ras
FESTIVALS AND AWARDS
Polish documentary ALL THESE SLEEPLESS NIGHTS directed by filmmaker Michal Marczak and produced by Pulse Films' Thomas Benski (Class of 2011, UK) and Lucas Ochoa (Class of 2015, UK) won the directing award in the World Cinema Documentary category at Sundance 2016. Read more
THE LAND OF THE ENLIGHTENED, a film produced by Savage Film's Bart van Langendonck (Class of 2014, Belgium), and co-produced by Fastnet Films' Morgan Bushe (Class of 2014, Ireland), won the World Cinema Documentary Special Jury Award for Cinematography at Sundance 2016.
ROOM, a film pitched by Element Pictures' Mark Byrne (Class of 2013, Ireland) for his Inside Pictures project work in 2013, was lauded with acolades – being nominated for four Academy Awards, including Best Picture, three Golden Globes, including Best Adapted Screenplay, and many more. Read more
THE SURVIVALIST, a film produced by Wayne Marc Godfrey (Alumni of 2013, UK) through his company The Fyzz Facility, and directed by Irish filmmaker Stephen Fingleton, followed up the 2015 BIFA win with a BAFTA nomination in the Outstanding Debut category. Read more
Congratulations to producer Raymond van der Kaaij (Class of 2013, Netherlands) whose feature BODKIN RAS (dir. Kaweh Modiri) was selected for SXSW in March and also won the FIPRESCI award at IFF Rotterdam.  In addition, A VR short film he produced, AMANI, has been selected for the NEXT programme at Cannes. Read more.
THE LAST PANTHERS, a TV series produced by Warp Film's Niall Shamma (Class of 2012, UK), was premiered in the US on Sundance TV during April to great reviews, following on from a highly successful  Europe-wide TX in 2015. Read more.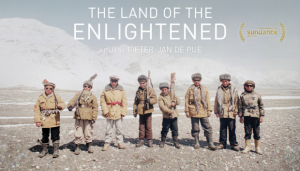 The Land of the Enlightened
CAREER MOVES AND OTHER ANNOUNCEMENTS
Fabien Westerhoff (Class of 2012, France), has launched international licensing and finance company Film Constellation, which will debut at Cannes. Fabien will reveal Film Constellation's first titles on the Riviera, from youth-oriented commercial fare to talent-driven pics targeted at mature audiences. Read more.
Huge congratulations to Pratibha Parmar (Class of 2002, UK), who was nominated and  has been accepted to be a Voting member of the Academy of Motion Picture Arts and Sciences.
In February, Anna Higgs (Class of 2010, UK) moved from Film4 to be the new Creative Director at NOWNESS. NOWNESS was launched in 2010 by luxury brand LVMH in partnership with Dazed Media. The channel specialises in showcasing established and emerging filmmakers and offers daily short film premieres (both curated and commissioned) covering the fields of art, design, fashion, beauty, music, food and travel. Read more.