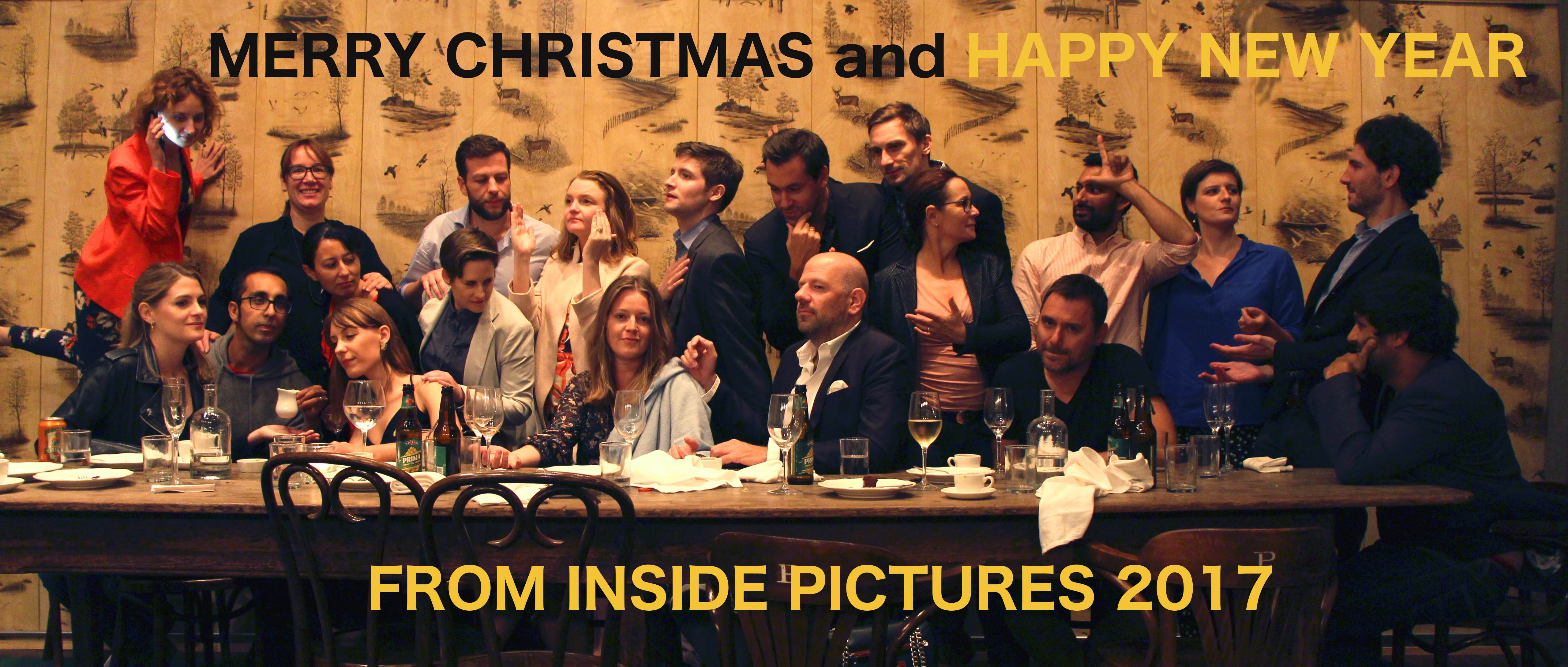 As 2017 winds down, we are very pleased to bring you the latest roundup of Inside Pictures news, featuring professional achievements and career developments of Participants and Alumni. The Inside Pictures team would like to thank all our Speakers, past and present, our brilliant Alumni and of course, our instrumental funders and sponsors who sustain this unique development programme and are committed to furthering our industry. To everyone, we'd like to wish you a very Happy Christmas and every success for the New Year. We look forward to seeing you in 2018!
Inside Pictures 2017 – Module 3
Our class of 2017 completed the third module of their year in November. It was an intensive week of training, focused on business development and personal growth. During the module, participants heard case studies from executives who have built, grown and sold successful film businesses. They also took part in lively workshops on conflict management, negotiation and presentation skills. New speakers included Zygi Kamasa, CEO of Lionsgate, which hosted Inside Pictures on Monday and Tuesday. We also, for the first time, had a VR business case study, led by Steve Jamison of Archer's Mark. Participants were also treated to a special VR Experience. Read More.
Inside Pictures 2018 – Call for Applicants 
Applications for Inside Pictures 2018 will open on Thursday 8th February. Please spread the word far and wide across the industry! We always welcome recommendations and are particularly keen to hear about European Financiers, Executives, Sales and Marketing and Business and Legal Affairs candidates this year – so if you know anyone who might be suitable for 2018's programme, please send their details to
assist@inside-pictures.com
.
Save the Date: Inside Pictures 2018 Launch Party in Berlin
The Inside Pictures launch party will take place in the new year in Berlin on Friday 16th of February. More details to follow, but in the meantime, make room in your diary for an evening with the IP Team and past and future Alumni.
ALUMNI NEWS
FILM PRODUCTIONS AND ANNOUNCEMENTS
2017 Participant Maximilian Leo serves as Producer of forthcoming film 7500, directed by Patrick Vollrath and starring Joseph Gordon-Levitt. He produces the film along with partner Jonas Katzenstein of Augenschein Filmproduktion The film takes place in the cockpit of a plane being taken over by terrorists. Gordon-Levitt will play Tobias Ellis, a co-pilot during a hijacking at 30,000 feet. Read More.
Katherine Bridle (Class of 2013) has been named as one of "Hollywood's New Leaders in Film" by Variety. Bridle, who is Head of Development at See-Saw Films is responsible for bringing the 2016 hit film LION into development, with the project beginning life at Inside Pictures, and being nominated for six Academy Awards. "The best advice I ever received was, 'There's always a solution.' It helps me to remember that in the creative process, apparent roadblocks often open up exciting new paths to explore." Read More.
2007 Inside Pictures Alumni Piers Tempest completed photography on the feature film DRIVEN starring Jason Sudeikis, Lee Pace and Corey Stoll. The film was shot in Puerto Rico, doubling for 1980's California. Among the usual challenges of filmmaking, the production was hit by both Hurricanes Irma and Tropical Storm Maria. Read More.
AWARDS NEWS
– Congratulations to Diarmid Scrimshaw (Class of 2012) and Inflammable Films on the recent wins for GOD'S OWN COUNTRY at the British Independent Film Awards. GOC took home awards for Best British Independent Film, Best Actor, Debut Screenplay and Best Sound.
– Also winning at BIFA was actress Patricia Clarkson for Best Supporting Actress for THE PARTY, produced by 2017 Participant Kurban Kassam.
– Helen Mirren has been nominated for Best Actress – Motion Picture, Comedy or Musical at the Golden Globe Awards for her role in THE LEISURE SEEKER. The film began as a project on Inside Pictures between Daniel Campos Pavoncelli and Agathe Theodore (Class of 2015). The film was produced by Daniel and debuted at Toronto in September of this year.
– RACER AND THE JAILBIRD, produced by IP Alumni Bart Van Langendonck(Class of 2014) is Belgium's official submission to the upcoming Academy Awards.
– Another Oscar connection: A CIAMBRA, co-produced by Sean Wheelan (Class of 2013) of Filmgate is Italy's official submission to the upcoming Academy Awards.
EVENTS AND OPPORTUNITIES
Inside Pictures 2017 – Graduation
Our Class of 2017 will graduate from this year's Inside Pictures at our annual graduation reception on 11 January 2018 from 7pm to 9pm at the Haymarket Hotel in London.
INSIDE PICTURES JOB OPPORTUNITY
We are seeking a highly-organised, disciplined and business-minded individual to take on the role of Inside Pictures Programme Coordinator. If you know of anyone who may be interested in this full time role, please direct them to the job spec available here, and to get in touch with with bea@inside-pictures.com, copying claire@inside-pictures.com. Deadline for applications is 12pm 2nd January 2018.