MODULE  2 BEGINS
Right after TIFF concludes, our 2019 Participants head to LA for Module 2.
We look forward to seeing the familiar faces of our regular IP supporters such as Rich Delia, Amotz Zakai and Hannah Minghella.
We also look forward to meeting our new Speakers for 2019, including Chris Rice of Endeavor Content, Darrien Michele Gipson of SAGindie, and our manager panel including Danny Sherman (Thruline Entertainment), Jennifer Levine (Untitled) , Joannie Burstein (The Burstein Company) and Nicole Romano (Anonymous Content). Holding the fort for our regular speaker Craig Emanuel is Susan Williams, also a partner at Paul Hastings, and who has been repeated named one of Hollywood Reporter's top 100 power lawyers.
FESTIVAL & AWARDS NEWS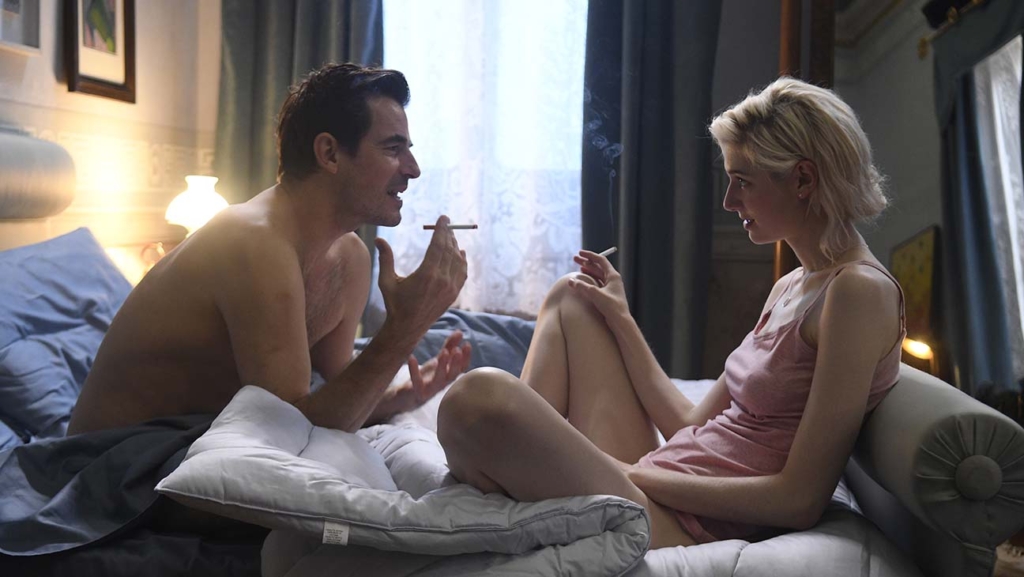 THE BURNT ORANGE HERESY (Dir: Giuseppe Capotondi), Daniel Pavoncelli – Exec Producer
Daniel Campos Pavoncelli has Exec Produced Capotondi's neo-noir thriller THE BURNT ORANGE HERESY which stars Claes Bang, Elizabeth Debicki, Donald Sutherland and Mick Jagger. The film has its North American premiere at TIFF after closing at Venice. Also at TIFF, HUMAN CAPITAL will be playing; Exec Produced by Daniel Campos Pavoncelli, directed by Marc Meyers and written and produced by Oren Moverman.
Justin Kelly, Head of Business & Legal Affairs at Hanway, has worked across the following productions as a Sales Agent: THE BURNT ORANGE HERESY from director Giuseppe Capotondi's, will be closing Venice and is featured in the TIFF Gala screening, THE SONG OF NAMES, starring Academy Award nominees Clive Owen and Tim Roth also features in the TIFF Gala Screening, whilst SWEETNESS IN THE BELLY; directed by Zeresenay Berhane Mehari will have its world premiere at TIFF.
LEONORA, written and directed by Thor Klein (Adventures of a Mathematician) and produced by IP participant Lena Vurma was selected for the International Financing Forum at TIFF this September and for the Production Finance Market in London in October. The movie is based on the novel by legendary Mexican novelist Elena Poniatowska.
Giorgos Karnavas has worked as a Sales Agent on director Oren Gerner's AFRICA produced out of Israel, which will have a world premiere at TIFF and San Sebastian IFF, as well as a Producer / Sales Agent on Miguel Ángel Jiménez's UNA VERTANA AL MAR which will have its world premiere at San Sebastian IFF.
PATRICK, Produced by Bart Van Langendonck and directed by Tim Mielants, has won 'Best Director' at Karlovy Vary Int'l Film Festival earlier this Summer. The film will be released in the Benelux on August 28th. The film will have its US première at Austin Fantastic Fest.
MERSEA, pitched at the IP Presentation Day by Paula Devonshire has won the Inaugural Cannes Frontieres Post Production Award. Directed by Rick Spears and produced by Adam Hendricks and Greg Gilreath of Divide/Conquer and Blumhouse Productions, the Canadian fantasy romance MERSEA follows two teens who begin a relationship under the belief that they're transforming into monsters.
IN PRODUCTION AND ANNOUNCEMENTS
Nordisk Film has signed a three-year output deal with Sweden's Brain Academy, giving the Scandinavian distributor exclusive access to upcoming projects from director Mikael Hafstrom (Evil, TV's Bloodline) and IP alumni and producer Helena Danielsson, such as THE PERFECT PATIENT which marks the director's return to Scandi cinema and is released in September in Swedish cinemas. Read more here.
Paula Devonshire has been working as a producer for the past few weeks on Star Trek Discovery; creating four short films to promote the series; created by Bryan Fuller and Alex Kurtzman for CBS All Access.
Arvind Ethan David is Lead Producer of the new musical, JAGGED LITTLE PILL based on the groundbreaking Alanis Morissette album, which starts performances at the Broadhurst Theatre on Broadway 3 November.
Charlotte Mardon–Heath has moved within eOne from the New Media team as Senior Marketing Manager for 5 years, to the theatrical team as a Marketing Consultant. eOne has a fantastic slate of films coming up, including Chris Morris' THE DAY SHALL COME, Sam Mendes' 1917 and Melina Matsoukas' QUEEN AND SLIM
Fulwell 73, the UK production outfit behind documentaries ONE DIRECTION 3D: THIS IS US and I AM BOLT, is expanding its post-production operations with the acquisition of London-based facility Creativity Media. Creativity co-founders Richard Kondal and IP alumni Patrick Fischer will stay on as co-managing directors and oversee a newly combined team. The new post-production division will combine Fulwell's expertise predominately in TV production and post-production with Creativity Media's expertise in feature film picture and sound finishing, VFX and delivery. Read more here.
Pratibha Parmar is working as a guest director on an episode of QUEEN SUGAR which will broadcast in the U.S on the OWN channel on September 4th. The American drama television series is created and executive produced by Ava DuVernay with Oprah Winfrey serving as an executive producer.
Anna Higgs has been elected as the new Deputy Chair of the BAFTA Film Committee.
HBO and sales agent Independent has picked up the international rights to the political documentary feature THE ART OF POLITICAL MURDER directed by Paul Taylor (We Are Together) with ICARUS producer Teddy Leifer. George Clooney and Grant Heslov serve as Executive Producers. Read more here.
Christopher Granier–Deferre has worked as Producer on drama-romance SCARBOROUGH which is set to be released simultaneously in US and UK in September by Blue Fox Ent in US and Kaleidoscope in UK. Winner of Best Screenplay at the Macao International Film Festival, the film stars Jessica Barden, Jordan Bolger, Edward Hogg and Jodhi May and was described as "a truly fascinating and absorbing piece of contemporary cinema" by Hey You Guys.
PARTICIPANT PROFILES
Over on the website, we continue to shine light on our 2019 participants with our Participant Profiles – a great opportunity to get an insight into their experience and roles in the industry and read about their journey on the Inside Pictures programme so far.
Check out interviews with Ailish McElmeel, Cristian Nicolescu, Alice Damiani and Anna Smith Tenser